Home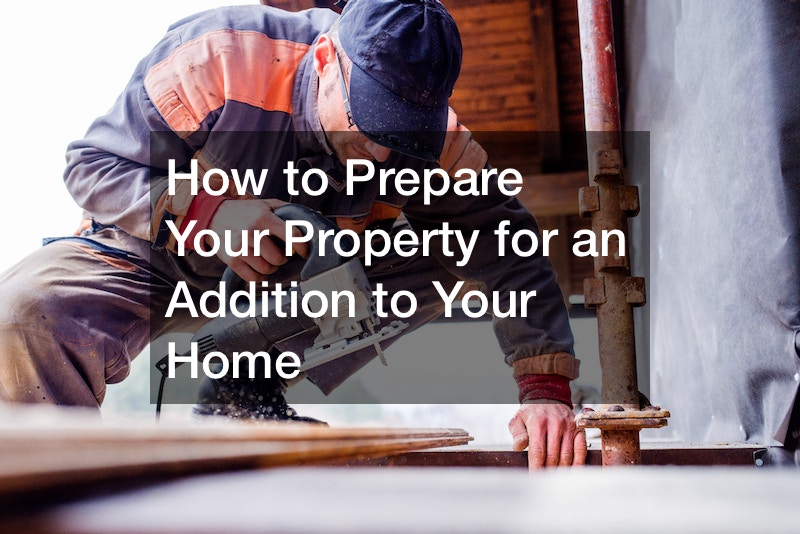 How to Prepare Your Property for an Addition to Your Home

When embarking on a home addition or remodeling project, it must first be determined if the plan is for a basic project of adding one or more rooms, or if it will be a complex, multifaceted project that will require intense thought, planning, and contractual work. Make no mistake: whether it will be a matter of adding a few rooms or adding an entire structure (i.e., guest home on available land space), it will still be a thought-provoking venture that will require the homeowner's complete focus and attention. In addition to the actual work on the project, there are intricate details that must be considered before beginning the work. These initial details include:
Budget assessments and decisions.
Size of the addition.
Setting a time frame that covers the work.
Deciding what materials and supplies will be needed.
Developing a precise idea or plan of what will be done.
Finding out what must be done on the land the addition will be built on
Regarding timeframes, keep in mind that they are not exact. The reality is, rarely is a job completed within the deadline that is stated, mainly because of the unexpected interruptions that can occur. Therefore, the homeowner and the contractor must discuss what they consider to be reasonable delays. For instance, a couple of days or weeks could be a reasonable delay, while delays of a month or more could be a problem for everyone involved. The important thing is, this is an obscure area that must be addressed.
As mentioned above, there's usually more to the venture than just the remodeling to be done on the home. No matter what the new addition will be, it'll probably extend to using more of the surrounding land on the property. It then becomes necessary to find out what must be done to the land to accommodate the new addition. Therefore, to prepare your property for an addition, it will also be necessary to find out what this preparation consists of, and this involves numerous steps.
Four Things to Do Before Starting a Remodeling Task
Depending on what's to be done, it must be kept in mind that adding additions to a home can be an enormous financial investment. If the homeowner is fortunate enough to have the project completed within a reasonable time frame and it's done exactly as wanted, there could still be possible project changes and disruptions while the work is being done. This adds up to more money being spent than expected. However, if major problems enter the picture, such as incomplete jobs leaving extra financial burdens on the homeowner, damage to the home, or dealing with inexperienced or unethical contractors, finances can soar past established budgets. Homeowners will want to safeguard themselves as much as possible by doing what should be done before and during the work to minimize the possibility of unwanted, costly errors.
1. Take the Lead and Remain in Control
Taking the lead to prepare your property for an addition when doing a remodeling job might not be as simple as it may sound. One of the best ways to avoid unwanted trouble is for the homeowner to not only have a clear and concise plan for the job but also the homeowner must be able to explain this job to the contractors. If it's explained well enough, then the builder or contractor should be able to create an image or blueprint that all will be able to discuss and make any necessary changes. This will bring into focus exactly what the homeowner wants.
In short, before beginning the project, the homeowner, builders, and contractors should all be on the same page as far as the work that's to be done and the amount of money involved. Of course, homeowners or workers can't know about the unexpected problems that could arise, like discovering old wiring that requires updating, replacement of old pipes, or weather delays. It's advised that homeowners should incorporate up to 20% more into their budgets to cover these unforeseen issues. Homeowners should be clear about the approximate amount they expect to spend, and builders and contractors should be clear about the costs involved in completing the project so, if necessary, homeowners can modify their plans and finances accordingly.
Once the job begins, homeowners should monitor the progress, if not daily, then at least as often as possible. Workers might find themselves in a position of being unsure about what to do next, and homeowners should be there for further discussion to avoid the possibility of changes in the original construction plan.
2. Create a Budget
In addition to calculating what can be spent on the work to be done, a very important thing to think about is whether the family will be able to remain in the home while the job is being done. If living accommodations must be made, this is an expenditure that could become massive depending on how long the homeowner anticipates the job will take. Also, remember to add that extra 20% to cover unexpected problems.
3. Become Familiar With Zoning Laws
Another first step to check into before beginning a remodeling project is to find out what the construction specifications are of the local zoning laws. To prepare your property for an addition, you must first find out if the planned layout, size, and locality are acceptable in your zone, or if the addition you wish to add is even allowed.
Local zoning laws are different in each district, so it will be necessary to research these regulations by checking the local zoning specifications in the desired district. Adding rooms to the existing home may result in fewer restrictions. However, adding an apartment intended for another relative or friend, or building a separate structure on the land (i.e., a guest house) will surely introduce multiple zoning restrictions that will have to be followed. Therefore, it can be understood why these laws must be known before starting the project because the homeowner doesn't want to be in violation of zoning codes that could possibly lead to penalties and/or fines.
4. Obtain the Necessary Permits
Depending on the work that will have to be done, another step to take before beginning a remodeling project would be to find out what permits may be necessary. For instance, new wiring or changing the current wiring will require permits, and plumbing permits are needed when installing new or changing old plumbing systems. These are just two of several jobs that would require permits. Therefore, take the time and do the research to find out what permits may be required for all jobs that will be done.
Hiring Contractors
Of course, finding contractors who will do the best job and completing the job as close to the approximate deadlines established is what everyone wants. Recommendations from family members, friends, or neighbors are still the most convenient and reliable ways to find the best workers and get most of the important information required. Because many contractors work with numerous other professionals, it would help to find contractors who've gained specific knowledge about preparing properties for adding additions. They can point you in the right direction when other help and resources are needed.
Clearing the Land Where the New Addition Will be Built
After the initial steps, and you're in the process of hiring contractors to prepare your property for an addition, how much and exactly what must be done about clearing the desired land space has to be determined. Land clearing is the process of removing trees, shrubbery, and other obstacles from the land. This process involves permanent removal so as not to allow future growth or problems to develop that would disrupt the new addition. If the clearing is minimal, it could be done by using similar hand tools that are used for gardening and general lawn work. Using a local tree removal service could be helpful as well. If the overgrowth is dense and deeper into the soil and land, and covers a large portion of land, a brush mower might work best.
The addition must be built on a reliable foundation that's free of large trees and shrubs with deep roots, and on level land that's free of rocks, soil, and other debris and obstacles. Hiring a company that provides professional excavation services would be a tremendous benefit. Overall, these companies deal in site preparation, doing whatever is necessary to clear the area so that it's ready for the construction work. Excavation service companies are also knowledgeable about permit requirements, and they work with land surveyors, and utility companies, so a lot of the important work is handled insuring that the job is done correctly and safely. This is one of the many important steps to take to prepare your property for an addition. These companies also provide grading services to help with the leveling of the land.
Soil Excavation
Soil excavation is a specific type of excavation providing a clearing process that cleans the soil by removing soil from beneath the surface. The intention is the removal of rock, tree roots, vegetation, and all other decomposing material and impurities that would contribute to weakening the foundation. Regarding the homeowner's project, a professional excavation company will explain the necessary details of the process while also discussing the hazards and safety measures to be taken.
Other Processes That Could Prove to be Useful
It's helpful to have several options to choose from when it's necessary to prepare your property for an addition. Most importantly, when budgeting, being free to choose from several options helps to put together a budget that works best for you.
Bush Hogging Services
These services can be used when the job involves excessive brush clearing and heavy growth of grass and weeds that accumulate over long periods of time. This kind of growth might not be handled very well with a standard lawn mower. Using a steel rotary cutter that's attached to a tractor, bush hogging services chop through massive growth, cutting deeper into the roots, and tearing through grass and weeds that are up to 2″ thick.
Landscaping Services
When a land-clearing job involves the removal of large trees and multiple shrubs with enormous roots, soil excavation, and grading services, excavation services would be the choice. However, if the land clearing is not as extensive, homeowners may find it more cost-effective to hire landscaping companies or landscaping contractors. The added plus of using landscaping services is the aesthetic appeal that comes with the finished product. As the land is cleared, one of the main focuses of landscaping services is to produce a beautifully relaxing space for families to enjoy and to welcome other family members and friends to come and visit.
Recommendations from friends and relatives are the best way to find local landscapers and to find landscape materials for sale. Of course, there's always googling on the Internet that will also provide the information needed as well.
Conclusion
To prepare your property for an addition, always keep in mind that it can't be handled in a haphazard or careless manner. For those homeowners who have some experience in dealing with home remodeling, this article will serve as a refresher course in reminding them about the dos and don'ts involved to prepare your property for an addition. However, for all those who know little or nothing about how to prepare your property for an addition, this article offers good starter information to help with the intended renovation. Depending on the size and depth of the project, it might also be good advice to consult with an attorney knowledgeable about home renovations. This suggestion is made because it might be necessary to draw up a contract or contracts that cover subjects like payment structure and project changes. Also, if contractor disputes arise, having an attorney on hand would be an added convenience. Do the research and decide on a plan that works best for you.