Home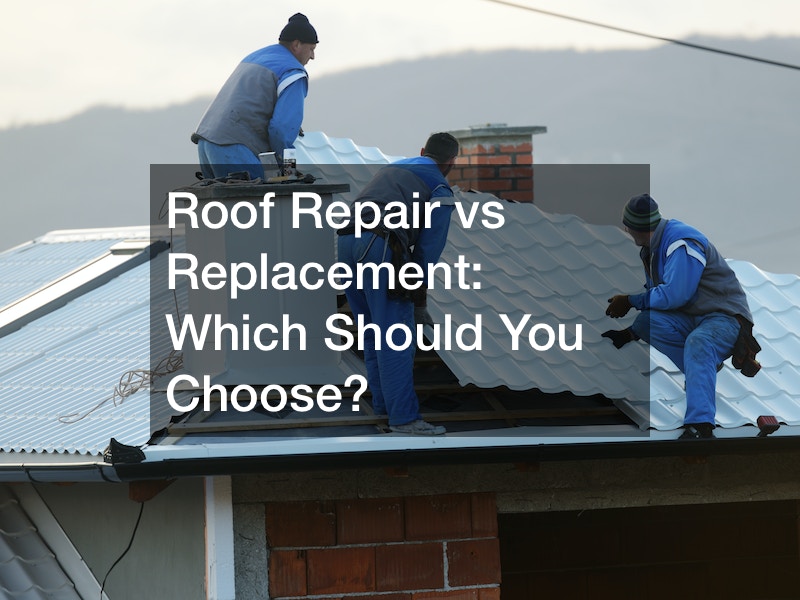 Roof Repair vs Replacement Which Should You Choose?

---
Whether it is a home improvement plan or a project to correct roof damage, the decision you make to restore your roof's beauty is important. In some cases, simply replacing a few shingles on the roof is all you need to restore its beauty and functionality. In other cases, you may need to go the replacement route and change the entire roof. In both instances, getting the average cost for roof repair is vital, as it helps you decide which route to take. Nevertheless, how can you know that you are making the right decision? Below are a few factors that will guide you on whether to get a roof repair or replacement.
The Age of the Roof
The age of a roof is among the important factors to consider when deciding to repair or replace your roof. Different roofing materials have different lifespans. Some materials like asphalt shingles may last 20-30 years, while others like concrete can last 100 years or more. Checking the installation date of your roof can help you determine its age and know whether you need a roofing service for replacements.
If your roof shows signs of aging, it is advisable to consider replacement over repair. You will know your roof is aging when you notice leaks, missing or damaged shingles, and granules in the gutter. It may also be aging if it develops cracks, whereby you can see light rays through the roof boards. When you notice these signs, it would be best to get roof replacement quotes rather than estimates for the average cost for roof repair.
The Extent of Damage
If you're considering roof replacement or repair, it is likely that your roof has undergone physical damage or lost some of its aesthetic appeal. By checking the severity of the damage, you can know which route to take. If the damage is minor, a simple repair may be all you need. However, if it is severe, you may need to consider replacing it. Additionally, inspecting the affected areas can help determine whether your roof needs replacement or repair. Any form of damage confined to a small area may typically be repaired and patched up, eliminating the need for a new roof. But if the damage stretches to more than 30% of your roof, it is preferable to replace the entire roof.
The extent of damage to your roof is determined by several variables. Your roof may constantly develop severe damage if you live in a location susceptible to severe storms, hurricanes, or tornadoes. The extent may also be determined by the size, weight, and material of the object that falls on it. Tree branches, large stones, and other heavy objects can cause severe damage to the roof. Considering this, the best way to gauge the degree of your roof's damage would be to work with a reliable roofing company that can help you understand how serious the damage is and what you need to do to fix it.
Checking for Leaks and Signs of Moisture
Leaks and signs of moisture in a roof can signal various things. It can indicate that a roof is damaged or reveal that it has come of age. Before estimating the average cost for roof repair, it may first be important to check for leaks and signs of moisture to determine whether you need a replacement or a repair. If you notice signs of moisture inside your home, such as mildew, discolored wall, or brown patches on your ceiling, you should consider replacing your roof rather than trying to repair it.
You may also need to look at the indoor and outdoor signs of leaks to determine which way to go. Inside the home, the common spots for leaks include ceilings, walls, and the attic. You can start by checking dripping areas and discolored spots on the ceiling and walls. Then, check the interior walls and ceilings for peeling or blistering paint. Lastly, search for leaks or wetness inside the attic and staining on the walls and ceiling.
When Outside, you can know if your roof leaks by checking decking decays, damaged shingles, roughed-up roof flashing, and other visible damages. A roofing service professional may be well versed to help you notice any signs of damage and advise you on what to do to rectify the situation. Depending on the extent of the leaks, the professional will advise you whether to repair or replace your roof.
Considering Your Budget
One main thing to consider when estimating the average cost for roof repair is how much you are willing to spend. Your budget can single-handedly determine whether you will repair or replace your roof. If you are on a limited budget, you may have to prioritize repairs over replacement. This means that you might have to postpone replacing your roof until you have enough money saved. In addition, your budget may affect the quality of roofing material you choose. A lower budget may mean choosing a cheaper, lower-quality material over more expensive, high-quality materials.
You should also know that roof repair and roof replacement costs may differ significantly. While repairs are often less costly than replacements, you must take into account the hidden costs of roof repairs. These may include the cost of materials, labor, and disposal of damaged parts. Additionally, there can be hidden expenses such as the recurring repair cost if the repair is not done properly. For this reason, it would be best if you call a residential roofing service to get both the average cost for roof repair and the cost of replacement for comparison.
Checking Your Homeowner's Insurance
The expense of replacing or repairing your roof can often soar to staggering prices and amount to thousands of dollars. So, before settling for either repair or replacement of your roof, you should ask yourself whether or not you have a viable insurance claim. Of course, the severity of the damage and your roof's size and location will all play a key role in your insurance claim.
If your leaks result from storm damage, you should file a claim with your homeowner's insurance provider. The company will likely send a roofing professional to inspect the roof damage, calculate the average cost for roof repair or replacement, and determine which of the two is included in the coverage. The insurance company may also have a say in the materials and the residential roofing services you choose for the repair or replacement. Therefore, you should find out what your insurance claim permits before calling a metal roofer to replace your damaged asphalt shingle roof with metal roofing.
If you have a viable insurance claim and have found that it permits both roof repair and replacement, you should consider the latter. Not only will you get the best value for your coverage, but you will also avoid unnecessary expenses that may come with frequent repairs. All you need to do is find a roof installer who can help you estimate the average cost for roof repair and replacement.
Considering Your Home Stay Period
While most homeowners build homes to stay there forever, some may consider moving in order to scale down or move to a bigger home. If you are not planning to stay in your home forever, replacing your roof with a new one may not seem advisable. However, if you plan to put it up for sale, you may want to ensure that it is inviting to potential buyers. Therefore, depending on the age and condition of your roof, you can decide whether to repair or upgrade it. Regular maintenance and minor repairs can suffice if the roof still looks new and fine. However, if it has already had several repairs and is approaching its lifespan, you should consider a new roof install.
Taking the Repair Route
Roof repair is generally the first option most homeowners consider. It is easier and more affordable to replace damaged shingles than to replace the entire roof. You should contact a roof repair business for repair if the roof has minor to moderate damage. It is crucial to repair these damages as quickly as possible to avoid more severe problems that may require roof replacement. When you ignore such damage on your roof, water can seep into your home through even the smallest cracks, causing problems such as mold and rot over time.
You can start calculating the average cost for roof repair if you notice missing or damaged shingles, minor leaks, chimney damage, animal damage, poorly installed or damaged flashing, and gutter damage. When your roof has any of these signs, you can contact a professional roofing service to patch the damaged area and seal water leaks. However, you may also repair the damage yourself easily. You can check for the source and the extent of the damage, patch up holes and leaks you notice, and replace damaged or missing shingles with new ones.
Repairing your roof comes with several other advantages. Other than the average cost for roof repair being less than that of replacement, some advantages include shorter project completion time, prevention of further damage, and extension of the roof's life span. In addition, a roof repair will also improve the look of your home when you do not have the money to invest in a new roof.
On the flip side, replacing missing or damaged shingles may affect the aesthetic appearance of your roof. This is because it can be hard to match replacement shingles with original ones, thus leading to an undesired curb appeal. Also, when the roof is patched poorly, you may need to fix other problems, which can be more expensive in the long run.
Taking the Replacement Route
Your roof is an important part of your home, so it is crucial that you keep it in good condition. That may sometimes mean replacing it entirely. For many homeowners, roof replacement is the best solution to fix a severely damaged roof. Although it can be generally expensive, ultimately, it can save money by avoiding additional expenses associated with frequent repairs or damage.
What signs indicate that your roof needs replacement? If your roof is showing signs of deterioration, such as wear and tear, it may be time to replace it. You may also need to replace a roof during a home renovation project to improve its outward appearance. Not only will that make it attractive, but it will also increase the value of your home. Another reason you may want to replace your roof is to increase your home's energy efficiency. Today, residential and commercial roofing companies provide energy-efficient roofing options for their customers. Hence, this would be an important consideration when calculating the average cost for roof repair.
Roof replacement can have several advantages as well as drawbacks. Besides increasing your home's curb appeal, a roof replacement will give you peace of mind knowing that you won't have to keep checking for leaks or damages now and then. Additionally, a roof replacement will likely last longer than a roof repair. On the other hand, installing a new roof can be expensive and take longer. It can also be labor-intensive and require more time and material.
Now that you know what is involved in roof replacement and repair, you understand how crucial an inspection is to determine the specific state of your roof. Before calling a roof repair business to inspect your roof, you may want to research and see if a repair is worth more than a replacement. You may also want to be informed, so you do not spend a fortune on a new roof when your current roof is still in good condition. Either way, it would be best to allow a roofing expert to help you make the best decision or find the right average cost for roof repair.