Home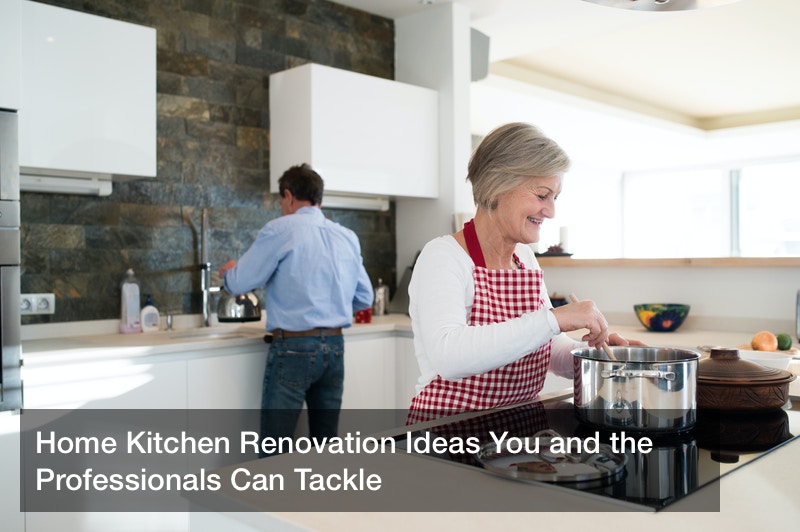 Home Kitchen Renovation Ideas You and the Professionals Can Tackle

"A common real estate adage says 'kitchens sell houses,' and it's true," Zillow writes. Up to 58% of recent homebuyers say the kitchen heavily weighed into their decision to move forward with their purchase. What's more, Zillow reveals that even a relatively minor kitchen remodel can recoup over 81% of its cost.
These figures make it clear: home kitchen renovation is a worthwhile investment and, more often than not, one that decidedly pays off. If a home kitchen renovation is in your near future, consider these popular ideas to get you started.
Replace Your Flooring
A dingy, old floor can make the entire room look outdated and underwhelming. In fact, the majority of homeowners agree that flooring should be a top priority during a home kitchen renovation. According to Houzz's Kitchen Trends Report and Real Simple, "69% of kitchen-remodeling homeowners updated the flooring in their kitchens."
What flooring types are the most popular? Houzz's report reveals that a hardwood floor is the most popular choice (favored by 29%). Porcelain or ceramic tile is the second most popular option (23%), and vinyl flooring is the third (14%). Here is a breakdown of the pros and cons of each flooring type:
Add a New Appliance or Two
A home kitchen renovation would be incomplete without at least one new appliance — and many homeowners opt for replacing several, if not all, their appliances during a remodel. Rocket Homes suggests setting aside at least 14% of your home kitchen renovation budget to replace appliances. With those funds and a little bit of creativity, consider:
Whether you opt for entirely new appliances or purchase a few appliances new as well as investing in some much-needed gas stove repairs, make a plan first. Decide what types of appliances and what type of kitchen layout will serve you and your remodel best.
Think About Lighting
As you tackle home kitchen renovations, another important thing to consider is lighting. Kitchens look best with new light fixtures and plenty of natural light.
Natural light is good for your health. According to Healthline, natural light "provides measurable health benefits," including better sleep and fewer symptoms of depression. Introduce more natural light into your kitchen by uncovering windows, adding new windows, or using other tricks to enhance and play up natural lighting.
HGTV recommends forgoing curtains to introduce more natural light into the room or installing new windows, like skylights, to make sure your kitchen gets more sun. If you have already exhausted these options, paint your backsplash and/or kitchen white to reflect the most light and place large mirrors strategically around the room.
Once you have maximized the natural lighting in your kitchen, it is time to take another look at lighting fixtures and sources of artificial light. Don't let outdated fixtures ruin the look and ambiance of the room. Invest in new, modern light fixtures, or search tag sales and consignment shops for vintage light fixtures. If you choose the latter route, invest in light fixture repairs to breathe new life into classic, vintage fixtures, make sure they are in working order, and to make them look like new.
Replacing and/or fixing light fixtures can be a relatively inexpensive upgrade that makes a tremendous difference.
For the optimal home kitchen renovation, do not forget about light. Add windows or uncover windows to maximize light, and replace or revamp light fixtures for a more modern, put-together look.
Get It Fixed
As you remodel your kitchen, there is a good chance you will run into some problems that need your attention. Fix problems as you go and anticipate any problems that you may have as you design the layout of your new kitchen. Here are a few key things to consider:
In With the New: Invest In A New Patio Door
Many of us have kitchens leading directly out into the patio. That means the patio door can take up quite a bit of space in your kitchen and it can dramatically change the way it looks. As such, it is very important for you to consider the patio door and new patio door installation as part of your home kitchen renovations.
To include your patio door in your kitchen design:
Home kitchen renovations are not always about the kitchen alone. As you plan your remodel, think about any rooms or areas attached to the kitchen as well.
Explore Unique Design Ideas
The last thing to remember when taking on home kitchen renovations is to make them your own. This is your opportunity to design the kitchen you like. Read up on current trends and draw your inspiration for them if that is what you want to do. If you are confident that you can come up with a better idea on your own, go for it!
For example, many homeowners are taking a keen interest in European kitchen design. What exactly is it? "A consistent theme in contemporary European design tends more toward styles inspired by the midcentury modern design that originated in the Nordic countries," HGTV writes. That means kitchens feature hard lines contrasted by soft curves, natural materials, and lots of colors.
Walls may feature stark geometric patterns, while furnishings, like bar stools, are curvy and smooth. Homeowners favor hardwood floors, granite countertops, and perhaps some sparse wood chairs. White or black kitchens are punctuated by pops of color, like trim or details in bright yellow.
Other homeowners may opt out of European influences altogether and instead design their kitchen to resemble a pizza shop. These kitchens may include lots of red and yellows, vintage paintings and details, and a brick accent wall or brick oven.
When it comes to truly innovative, unique home kitchen renovations, your options are endless. Draw your inspiration from popular resources, like HGTV or Better Homes And Gardens, or pursue a design that is entirely your own.
"When a kitchen renovation is done right and is part of a well-maintained, upgraded home, the return on investment (ROI) can be as much as 200%," HGTV writes. Design the kitchen of your dreams and do it in a way that will recoup most of the funds you put into it.
For most home kitchen renovations, replace the floor, add new appliances, incorporate natural light, fix outdated fixtures and appliances, and install energy-efficient features. These changes may seem small, but they will add up and dramatically change the way your kitchen looks.
For a truly popular kitchen with high ROI potential, HGTV recommends stainless steel appliances, neutral colors (white, taupe, cream, beige, gray, and navy), a sleek, transitional design, quartz or granite countertops, and simple tile backsplashes. To make it your own or add more personality to these kitchen remodels, use accessories, like kitchen towels, dishes, and artwork to make a statement.