Home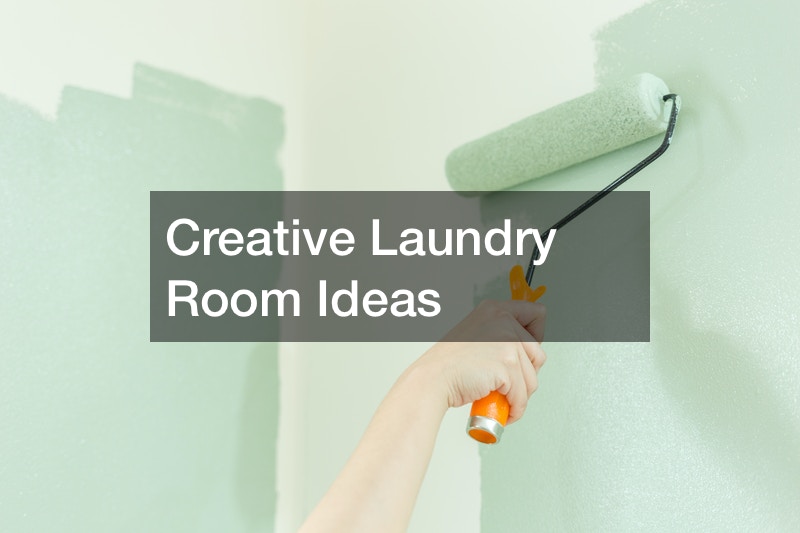 Creative Laundry Room Ideas

These days, having a high-style and high-function laundry room is a must-have. Combining space-enhancing storage solutions is essential to creating an ergonomic and efficient space. Here are the trending creative laundry room ideas you should incorporate.
On-Trend Tones
If you have a small space to use as your canvas and are not ready to make significant commitments, consider incorporating some trending tones like a French Gray. Doing so will minimize the cost of making changes as the trends evolve.
Wallpaper
Making your laundry room as beautiful as possible will make an otherwise dull chore fun. Wallpapers are fun and functional, creating a feeling of sophistication in your laundry room. Try a bright floral print on the walls and create a contrast with white and black tiles on the floor. This slight change will keep your moods up for families with many children through the seemingly endless laundry.
Props
Adding a kitchen island to your laundry room makes it easier to fold towels and acts as a hold for fitted sheets. You may also lay delicates on it to dry or use it to clean stuffed animals or bath toys. If your laundry room space allows it, get an island with storage space beneath it to keep your laundry baskets and cleaning supplies. This is one creative laundry room idea that will help you express yourself.
All-White
Consider painting your laundry room in all white to make your room look and feel bigger. A white laundry room makes your space feel clean and organized. Add good lighting to the room to make it easy to read labels and symbols, making your room even more practical. You may combine white with bronze knobs, light-colored quartz countertops, and a concrete floor for easy cleaning.
Double-washer dryers
When buying your laundry room equipment, consider the space you are working with and the items you will be laundering. Buying a double-washer dryer will guarantee you extra capacity with no need for additional space. Also, this setup will make it easy to clean huge items such as your comforter saving you a trip to the laundromat. For easy cleaning up and organization, have a sink and built-in cabinets in your laundry room.
Natural Light
If your laundry room is an extension of the main house, try and design it in a space that opens up to your backdoor or outside area. This plan will ensure a lot of natural light during the day and give direct access to the garden. You may add a huge window or a skylight to make your room more lit. Not only does this make the laundry room appealing, but practical as well. Instead of tumble-drying your clothes, you have the option to air dry them in your backyard.
Quality Carpentry
Working with an expert will make it possible to create customized ideas that fit your preferences and add to the efficiency of your space. If you are unsure how to get the best guy for the job, make inquiries at your local appliance store. You should get a valid recommendation.
Create room vertically
Limited laundry spaces can be made more functional and organized by adding room vertically. You may design some wall-to-ceiling built-in wardrobes that make it easier to store away detergents and laundry baskets. Use some trendy shade of gray to make your room look more sophisticated.
Use a pedestal
Place your washer and dryer on a pedestal to remove the need to bend over when doing laundry. While most washer-dryer brands sell pedestals, they do not provide the necessary elevation. For the best fit, work with an expert to create a pedestal that matches the overall design and is custom-built for you.
Functionality
Create a laundry room that is super functional by adding space and cabinets to store your muddy boots in the rainy seasons. Cleaning will be easier with a concrete or tiled floor, and the storage cabinets will keep the muddy boots out of sight before you get to wash them.
Color Blend
If your laundry room opens up to another room in your home, such as the kitchen, be sure to paint it in complementary colors. This will create a harmonious effect between the two rooms and make your home look well put together and thought out.
Traditional airers
Traditional airers or drying racks come in handy when handling delicate items that discourage the use of a tumble dryer. Adding a rustic charm to your laundry room, you can use the racks to dry out your comforter, towels, and bed liners. Certain items like wool will last longer when air dried, and you will be saving on electricity bills. Get creative by adding a rod between two wall cabinets to create a DIY rack.
Dark-shade colors
White and gray are not the only go-to colors that will keep your laundry room looking classy and modern. If you prefer dark colors like black, give them a go. Ensure you mix and blend a few natural colors like brown to make the space more exciting and add contrast. Darker shades may make for easier cleaning and maintenance.
Multiple hampers
To keep your clothing organized, use laundry sorters or hamper sets. Doing so allows you to separate laundry by wash type and person of color. They come in handy, especially when you buy second hand clothes and you need to sort through them. Hampers on wheels are a lifesaver because, with them, you won't have to haul heavy loads from room to room.
Zoning
If you have adequate space in your laundry room, consider zoning as one creative laundry room idea to make it more practical. Doing so will make it much easier for you to move around, locate items quickly in need and give precedence to specific tasks that require organization, such as ironing and folding.
Incorporate Art
Beyond being practical, your dry cleaning area must be appealing and inviting to you and your guests. Adding small details like pictures, flowers, and decorative items will give your room more character. You may need to add a shelf above your faucet to make the arrangement more secure.
Layout
Working with a limited space demands that you consider all options and avenues. Think about the movement inside or through the laundry room as you create the layout. Doing so will help you identify doors that can be closed or removed to increase your efficiency and minimize accidents in your home. Remember to ensure that your laundry room has access to the HVAC system to free your home from molds or overheating.
High storage units
Pets and children are prone to messing around and looking through cabinets to find things to take apart. These products are harmful to their health and can be hazardous. Keep your detergents and cleaning products in a high storage unit to avoid anger or frustration. A great creative laundry room ideas is to consider installing wall-mounted cabinets or high wall shelves with no potential to be knocked over.
Deep sinks
A deep sink is what you need when you need to wash whites or other items that cannot go into a washing machine, such as delicates or womens clothing. Place it beneath a window to enjoy a view while you wash. Also, if space permits, add countertops on either side to increase functionality. Lastly, ensure it is located close to your washer-dryer to make transfers more straightforward and less messy.
Flooring
c
The floors of your laundry room should be practical, easy to clean, and durable. A great pick would be to use natural stone floors because they retain heat in the winter and keep cool in the summer months. If you like the beauty of timber, consider installing wood-effect ceramic floors that are more durable than timber. Overall, tile flooring is the most versatile and stunning option.
Bold Colors
Use bold and bright colors to make your laundry room stand out. Solid patterns and colors are best suited for smaller spaces and will make your creative laundry room ideas come to life. You may choose to match the color in your kitchen or create an entirely different color scheme for the laundry room.
Considering the heat and moisture generated in your laundry room, a floor drain and drain cleaners are mandatory. Ensure that the plumbing or ventilation hose you have installed is rigid metal to decrease lint build-up. To cover this functional bit of your room, you may spray paint it, use pipe covers or build shelves around them. Plumbing contracting is the best way to get quality service on your home done, so don't hold back on contacting them.
Closet conversion
You can keep your laundry room out of sight by converting a closet into a laundry room. This is one of the creative laundry room ideas that saves on space and keeps your home looking appealing. Inside a 6-foot-wide cabinet, you can fit all your essentials. Install front-loading machines and top them with a butcher-block countertop. You can do open shelves and a drying rack above.
Hallway Laundry Room
You can install a laundry room in the hallway and use stylish tricks to hide storage and appliances. Use your wall cabinets to organize everyday essentials behind closed doors and a metal rod to hang garments. Lastly, spread some wallpaper to keep the space looking modern. You may look up the internet for more creative laundry room ideas.
Combine Bathroom and Laundry room
Having a separate laundry room is a luxury not everyone can afford. To get creative, you may combine your bathroom and your laundry room. You can achieve this by conveniently incorporating laundry facilities into a first-floor bathroom. Consider stacking your washer and dryer to maximize space and use open shelves to keep toiletries and laundry products within reach. This is one creative laundry room ideas you can do in your home without extra help.
One-wall laundry room
On one wall, fit in a front-loading washer and dryer, and either stacks them up or place them adjacent to each other if space allows it. Use butcher blocks for countertops and open shelves for storage. Add some personality by painting fun colors for the ceiling or placing excellent mats on the floor.
Laundry Room Storage Ideas
Adding furnishing and features to keep things in their proper place and minimize disruptions is key to having a functional laundry room. These ideas will inspire you to tailor your pace to your preference and style.
Get built-in cabinets designed and constructed to meet specifications to fit your exact space. Install built-in cabinets over washers and dryers to maximize space and to keep detergents out of the way and within reach when needed.
Modular units serve as good and more affordable alternatives to built-in cabinets. The options are many, and they can fit in different spaces. You may purchase a complete set or mix and match the units. Before making purchases, consider your most essential tasks.
Flat workplaces give you room to fold and stack laundry without straining your back. If space is limited, install a folding shelf over the washer and dryer. You may use this spot as a storage area for your hampers and baskets, helping maintain organization in your creative laundry room ideas.
Incorporate open shelving to open up your space and show off some of your personality. Add two or three open shelves over the washer or dryer for a clean look, or place them between cabinets. You can use woven or plastic baskets to store detergents, soap and wash rags and coins to minimize clutter.
There you have it. Use any or a combination of these ideas to recreate a laundry room that is modern and functional.