Home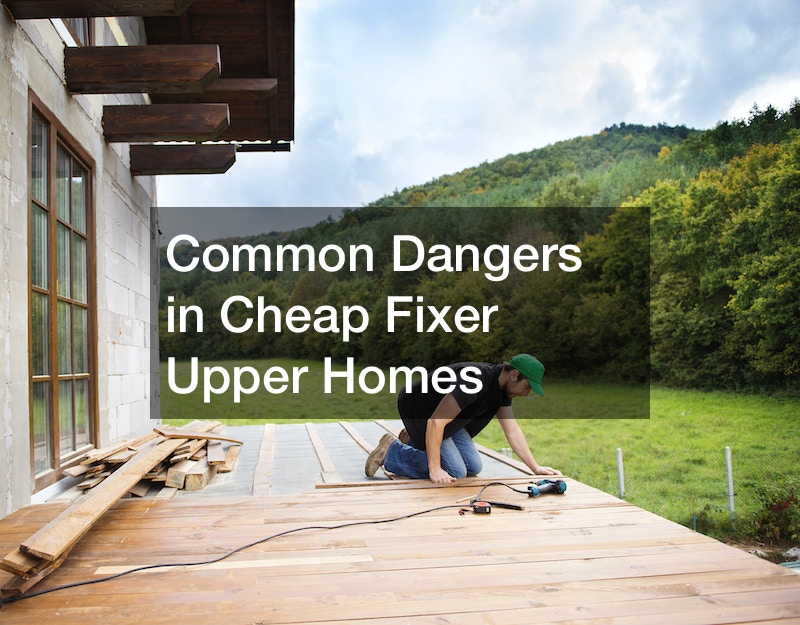 Common Dangers in Cheap Fixer Upper Homes

The Appeal of Cheap Fixer Upper Homes
People look for opportunities to make money and if they can do something they love at the same time that is an even better option. Many people who have money to invest in real estate and residential properties are finding a lucrative business in flipping homes. They do this by buying run-down houses and improving them to upsell later. By investing in the initial purchase and basic improvements, they can turn around and sell the home for even more money and enjoy those profits.
Whether or not the decision to buy a fixer upper house depends on your unique situation. It takes time and resources as well as a level of skills and know-how to make a house worth more on the market. A fixer upper could be a great investment, or it can also be a huge money pit. It all comes down to how well you plan and prepare for the process. You should be ready for anything in preparation for renovating your cheap fixer upper homes.
Here are some common dangers and issues you need to be mindful of as you start your fixer upper renovation work:
Clearing Out Overgrown Yards
One of the first things you will likely work on with your renovation work is cleaning out the yard and dealing with the overgrowth that might be there. Yard and wood waste disposal as well as cleaning and getting the lawn and gardens back under control is a big part of turning a fixer upper house into a home. While they are usually readily available, cheap fixer upper homes often come with a good deal of yard renovation and cleanup that will be necessary.
It is also about more than just the aesthetics and curb appeal of the home. Unmaintained yards can contain invasive species, harmful plants, and pests. These can significantly reduce the value and appeal of your home and can even pose a health and safety risk to pets, children, and even adults. It is also much easier to keep the inside of your home pest free when the yard is free of pests as well. It is a vital step that will definitely offer a great return on that initial investment.
Proper Disposal
As you work on clearing out your newest piece of property, dumpster rental services will be vital to the overall process and success of the renovation work. There will likely be a lot of debris created during the clean-up and remodeling work so you will want to make sure you plan ahead and have a safe and legal way to dispose of everything. Renting a dumpster is a key part of improving cheap fixer upper homes and will ensure you can work quickly and effectively.
Most places have very strict rules for what you can and cannot dump in landfills or other community dump areas. You will want to make sure you don't get fined for dumping something when and where you shouldn't- it is always more expensive to pay legal fees and fines than to simply rent a dumpster in the first place. Don't skip this step to save some money because it will always bite you in the end. Check your local business listings and see what dumpers rental services are available.
Inspecting for Immediate Dangers
One thing to always remember about cheap fixer upper homes is they are cheap and readily available for a reason- there are usually a few things wrong that will need to be addressed. One of the most pressing and often hidden dangers of these fixer uppers are things like mold, mildew, water damage, termites, and other fire and structural hazards. Working with a skilled and experienced renovation expert and finding local mold removal contractors and inspectors is a must as work begins.
Many of these issues are not easily apparent, especially to the untrained eye. Calling in the experts will ensure you and anyone else working on the home stays safe and are not exposed to unsafe conditions or hazardous material. Older homes that have fallen into disrepair may have things like asbestos and other harmful products inside. Knowing what might be lurking in the walls and under the floors and in the attic or basement can make it easier to carry out the renovation work.
Keeping the Weather Out
Any home that is worth living in is one that has a sturdy roof and is well protected from the elements. Many older homes that end up for sale have had some time pass since the last major roof inspection for renovation work done. One of the experts you will want to contact as you work on any cheap fixer upper homes is a roofing contractor. These experts will make it easier to get inspections and repair work done and the home is safe for people to live in.
Your local roofing service company can help you through the roof inspection and maintenance process and also help you check items off the to-do list. This is vital for any fixer upper work because, without a good roof, everything else you do inside the home is still at risk from the weather and the elements. There are many ways a roof can be compromised and roofing contractors can easily identify the warning signs and help you repair and renovate the roofing system as needed.
Revitalizing the Structure
Once the major work has been done the fun work can begin. As you start turning your cheap fixer upper homes into places people can fall in love with, a number of projects can end up on your to-do list. One of the most common is insulation removal, wall removal, room expansions, and of course revitalizing the home with personal touches. You will need to work with a contractor for some part of this process as they will need to check for asbestos and other potential problem areas.
However, once you have the all-clear, you can start looking at things like paint, flooring, paneling, tiles, furniture, appliances, and more! Little touches can make all the difference and this is where the true transformation from a fixer upper house into a lovely home begins. You can also look at the exterior of your home for little revitalizing touches such as a fresh coat of paint, power washing the driveway, adding some plants in the flower beds, or any number of little touches.
Removing Unwanted Guests
One of the downsides to buying cheap fixer upper homes to fix up is they may have been sitting for some time unoccupied. This means there is a good chance that any number of pests have found their way in. These unwanted guests will try to make your new home into their home so you will need to take action as soon as possible to get rid of them. Calling the local pest control service company will help give you an idea of where to start and what pests you are dealing with.
Whether you need specific services such as termite control or are looking for general exterminator services, they can steer you in the right direction. You can find the pest control options that best fit your needs, whether you are dealing with ants, roaches, fleas, spiders, flies, or any other common home and yard pest. Make sure your house doesn't have any unwanted guests and contact your local exterminator as soon as possible for a helping hand.
Checking Old Plumbing
Home flipping involves a bit of investigative repair work in some cases, especially when it comes to the plumbing system. Old pipes are a disaster waiting to happen and make a home much more prone to water damage and flooding if something goes wrong with the pipes. There are also sewer line repairs that need to be taken into account as well. Many cheap fixer upper homes will have some degree of pip and plumbing issues that should be addressed before renovations are complete.
Lead is very common in older pipes which can lead to a host of issues. Lead pipes leach dangerous carcinogens into the water, and are certain to make you and your family sick. It can also make water rusty and unfit to cook, wash, or bathe in as well. Old pipes that have not been properly repaired and maintained can start to leak and cause water damage in the falls and other areas of the home. Getting the pipes and drains inspected is a vital part of home renovation on a fixer upper of any kind.
Waste Disposal Concerns
Another area to be sure not to overlook is septic tank repair service. Not all cheap fixer upper homes have septic systems but it is something you definitely need to check and make sure of when buying your next home to flip. The reason for this is most urban houses tend not to have septic systems, but many rural homes will. You will need to know what wastewater management system is in place so you can accurately plan renovation projects.
Septic systems left out of date can be dangerous to a home by possibly backing up into the home, leaking harmful fumes into the home, soaking into the yard, and making an unsafe and nasty mess of the property. A faulty septic system can also harm the ecosystems surrounding it and even get into the aquifer and poison the water supply. Always take care to ensure any septic tank and system on the property are properly maintained.
Replacing Windows and Doors
Even if they don't seem too worn out, an upgrade that cannot be overlooked or ignored is window and door replacement. Cheap fixer upper homes often have problems with the windows and doors, and this can put the entire home at risk for problems down the road. More than just an inconvenience when windows stick or doors don't close properly, these issues can put you and your family at great risk for injury or even death.
Doors that won't close or lock properly can't protect against intruders or weather. If windows cannot be opened easily then you and your family could become trapped inside. It is a simple investment that will more than pay for itself in the long run by ensuring the home stays safe and secure.
Updating and Improving Security
The final step to consider when working on renovations and improvements to cheap fixer upper homes is keeping your investment safe and secure. Many older homes commonly bought for fixer upper jobs do not have security systems in place. This will leave your investments in all these renovations and improvements open to theft and vandalism. You can work with local locksmiths right from the start to change out the locks at the very least while you are doing the remodeling and renovations.
Once work is done and you are adding the finishing touches to the home, you will want to think about an investment in better home security. Alarms and smoke detectors are a must, but you can also look at adding security cameras, smart locks, and more advanced home security options. Doing so not only keeps your home safe and protected, but it will also make the home much more appealing to potential buyers when you go to sell the fixer upper.
Final Thought
Cheap fixer upper homes can be a wonderful DIY project that can put money in your pocket while also giving you something fun and engaging to work on. Knowing what home to invest in, what specific upgrade to make, and what things to be on the lookout for can make all the difference in how well the project goes. There are endless possibilities for things you can do with a fixer upper home and it is a great chance to be creative and do something you enjoy. Talk with your local construction company or contractor today to get started!