Home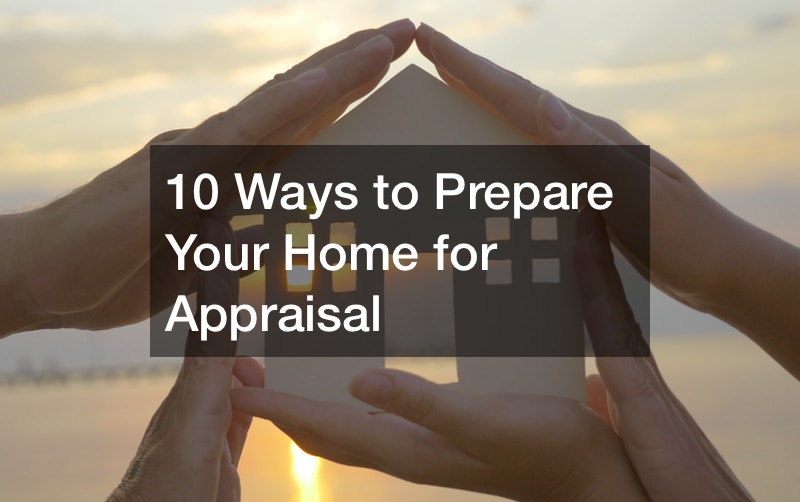 10 Ways to Prepare Your Home for Appraisal

10 Ways to Prepare Your Home for Appraisal
A home appraisal is an important aspect to consider in mortgages, real estate transactions, or rather, when selling your home. It is normally the estimated value of your home's worth. An appraisal should be unbiased in all cases. Moneylenders normally request an appraisal in case of a mortgage process. The appraisal is conducted to ensure a definite way to check the home's value and be certain that the borrower's kind of money is realistic. A home appraisal can consist of several things. For example, the home's location. For this case, the location is important as it gives an insight into how the surrounding neighborhood affects the home's value.
Some people are specialized in this work, and they do quite a good job. These people are properly trained and are licensed for this type of job. They will conduct an appraisal fairly with regards to the objectives and where the home is located. Their final decision on the appraisal will be based on several conducted tests. These professionals will then be required to substantiate any finding that could affect the value of the property. Companies conducting appraisals are highly regulated. In the case whereby the appraiser provides intentionally misleading information, the consequences are normally difficult. In this case, they have to remain fair in their judgments when doing the appraisals and should not take sides.
It is also important to know what appraisers look for when conducting the process. Appraisers normally concentrate on what is permanent in the house. For example, the size of the home and size of the yard. They are not interested in the décor or, rather, the furniture in the house. They look for what is permanent and other conditions they can manage to observe.
Importance of Conducting a Home Appraisal
·An appraisal will assist you in determining an unbiased market value for your property.
·The process assists lenders to know that the money they are giving you is realistic and matches the property's value.
·The process also assists and protects those buying the property. For instance, an appraiser may come across a problem you did not note when checking the property.
What Appraisers Concentrate on During an Appraisal
General Home Condition
It is the work of the appraiser to note the condition of the house. The details may include:
·The type of material used in home flooring.
·The condition of the home during that particular time.
·Any other suspicious aspect that may threaten habitability.
It is one important aspect appraisers will look for when inspecting your home. They will take note of anything that is not structured well. Moreover, the appraisers will check for the overall maintenance of the house. For example, missing knobs, leaking roofs, garage doors, and other issues. They will not necessarily focus on the cleanliness of the property but will be keen to note negligence. For instance, how plumbing has been incorporated in the house, damaged doors, and other things.
Location of The Property
Location is also another important aspect the appraiser will consider. This aspect plays a significant role when valuing property. The appraisers will look for several things regarding location. For example, the property's proximity to important social amenities like schools, hospitals, and police stations. They will also note whether the property is situated along a busy road or not. Moreover, they will note whether the home is located in an urban or a rural area. In addition, these professionals will be quick to note your surrounding environment. For instance, is your neighborhood made of apartments?
Age of the Property
It is also another important consideration. Whether new or old, each home has its pros and cons. It means that you do not have to own a new house for it to be valued widely. New houses can still have some hitches here and there. Engineers may fail to structure the property appropriately. However, age will still be a determining factor in one way or another. Modern and newly constructed properties will be considered greatly in the process.
The Property's outward appearance
The exterior of the property will also be considered during the appraisal process. This generally relates to the general structuring of the house. For instance, they will be keen to note small problems such as hanging chimneys outside your house. Roofing will also be a determining factor when valuing your home. Roofs that are not in good condition cause leaks and may cause infestations in the house. The moment you note that you have a damaged roof, the best approach to take is to talk to your mortgage agent. It is better than spending a lot of money repairing it. Doing this will help you lower the cost on your side.
Interior Design of The Property
The home appraiser will also consider the design of the property. Modern homes that are recently updated will have more buyers compared to those that are outdated.
Indicators of Water Damage
It is an important aspect because often water damage brings about lots of issues—for example, the breeding of mosquitoes. The home appraiser will be keen to note any issues related to water, such as stained ceiling and plumbing issues. Water damage is not an aspect to carry lightly since some problems may cost you a lot of money to fix them.
Size of the Property
Size is an important consideration during the appraisal process. The appraiser will note the property's square footage. In addition, they will note the number of rooms in your house and their respective sizes. The two will play a huge role in determining your home's value. The garage is also an important factor, because a house with several car garages will be valued highly compared to that with only one garage.
Major Property Improvements
Any improvements to the house will be highly appreciated and noted down. It applies mainly to the washrooms and the kitchen. The appraisers will also note energy saver equipment. Important aspects such as a major air conditioner for the house will highly appraise your property. It will also apply to the cooling systems and also heating systems. Additional improvements will also be noted; for example, AC repairs and new floors will also assist in setting your bars high.
The Property's Interior
The interior is a major consideration when doing an appraisal. Appraisers will take most of their time to check the interior of the house. They will begin with the number of rooms in the house. They concentrate mostly on the bedrooms and washrooms. They will also consider whether there is a basement or an attic. Moreover, they will consider the home's foundation and the materials used to build the interior.
Safety Aspects of the Property
The safety of the house is an important consideration. The appraisers will also take their time to note these features. They will look for aspects such as security lights, motion detectors, or even smoke signals.
10 Best Ways to Prepare Your Home for an Appraisal
Once you have noted what appraisers look for, you will not hesitate to go forward and prepare your home for an appraisal. This is after you have decided to sell your home to get money for other businesses. A home appraisal is the first step to home selling to determine the property's worth. Never strain yourself when preparing for an appraisal. Prepare it on time, and you will be sure to get beautiful results. There are several ways you can prepare your home for an appraisal. They include:
Ensure You Have Safety Equipment Installed and Are in Good Working Condition
Good examples of this safety equipment include fire alarms, motion detectors, handrails on staircases, among other equipment.
Tour Your Home Properly Before the Appraisal.
It is necessary to do this as it will assist you in noting any damage. Damage will lower the value of your home, and you should not want this to happen. For this case, ensure that everything is in good condition. For example, ensure that your gutters and roof are in good condition. It will help your home to look more appealing.
Let the Appraiser Be Aware of Any Recent Improvements
It will play a great role in the appraisal process. Inform the appraiser of any recent additions and also replacements. For instance, if the washrooms are remodeled or you have done an AC repair. It will go a long way in valuing your property.
Research Other Properties in Your Neighborhood
The research will assist you in knowing how other homes that are similar to yours have been valued and the recent selling prices of homes in your area. The other thing is, you will note the major problems they encountered during the process. This information is normally free to the public. However, take your time and talk to the neighbors who have undergone the process. It will assist you greatly in solving some problems.
Spruce Up Your Property
It will make your house look more appealing. You can do this by having residential painters repaint your walls, and you can change your doorknobs to new ones and even change your wallpaper. These details may be small, but they are very important during the process. They will make your house look modern and appealing.
Do Some Thorough Cleaning
Cleaning is done before the appraiser comes. Cleaning may include:
·Scrubbing your floors.
·Washing the curtains and carpet.
·Putting away garbage.
·Even leveling your flower gardens.
Cleaning will make the home look new and attractive to the appraiser.
Update Your Home Materials
It can be done by replacing outdated materials. You can do this by replacing your countertops, painting your furniture, and replacing an ancient floor. You can also hire commercial glass services to replace your glass windows in case they are broken. However, as much as you do this, ensure you maintain a neutral appearance of the house. It will assist hugely when determining the worth.
Clean Your Yard
A yard will always be visible to everyone. Therefore, you may not wish to lower the appraiser's expectation when it comes to it. For this case, before the appraiser comes, clean your yard and trim all the trees and shrubs. Ensure that walkways are free from snow during winter. Also, be sure to remove any broken furniture from the yard as well as weeds. You will receive a better appraisal when you do this.
Put in Mind The $500 Rule.
As much as you want a high appraisal for your home, ensure you have this rule in mind. Issues such as damaged doors, local commercial roof repair, broken tiles, cracked walls that may require concrete contractors can cost too much if they are discovered. Therefore, use this rule to recover such costs during the appraisal.
Looking at Your Property's Surrounding
Consider looking beyond your home and note some important aspects. For instance, check whether there is an increase in social amenities such as schools, hospitals, stores, or even parks and notify your appraiser. Such amenities can increase your home's value. Therefore, do not hesitate to tell them, since they may not be well familiar with the area.
Conclusion
Now that you know what an appraisal is, its importance, how it is conducted, and how you can prepare for one, your work will be easy. Therefore, if you have a home and feel like refinancing your mortgage, do not hesitate to do so. However, do not rush the process. Take your time and look at the small details the appraisers look for when conducting the process. Then, be sure to prepare your house efficiently before an appraiser visits your home. Do not exaggerate anything in regards to appearance. Once you have done the right thing, call the appraiser and begin the process. Ensure you look for a professional and trained appraiser when it comes to this. You will be surprised at how things will turn out. Your property will be valued the way it should, and you will appreciate the outcome.