Home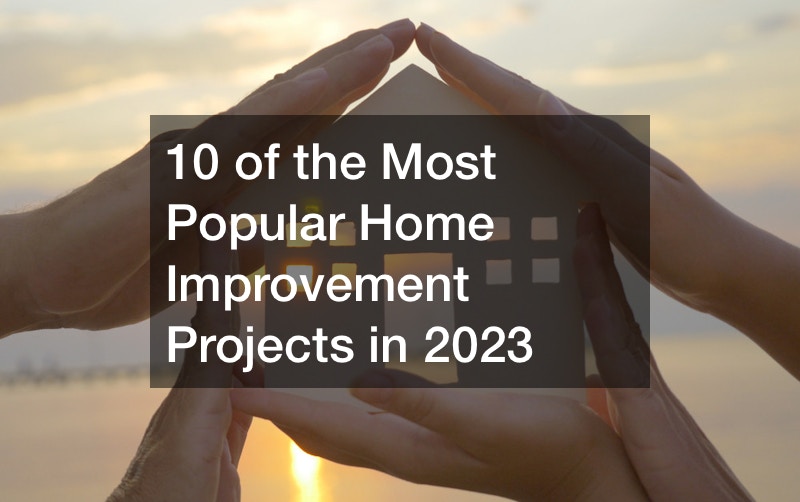 10 of the Most Popular Home Improvement Projects in 2023

2023 has witnessed a heightened craze in home improvement projects. There are dynamic shifts as more homeowners upgrade their homes to make them more functional, sustainable, and aesthetically pleasing. Mong home improvement projects in homes range from complete kitchen overhauls to creative, smart home integrations that elevate your comfort and style.
There's a lot of emphasis on energy efficiency, eco-friendly renovations, up-to-date home design trends, and integrating innovative technologies, creating a blend of the best creative and comfortable living spaces. Here are some of the most popular home improvements, including DIY projects, in 2023:
1. Kitchen Remodels
One major DIY project is kitchen remodels. People are taking remodeling to a new level by making their kitchens stylish, efficient, and functional. Several upgrades you can consider for your kitchen space include replacing the cabinets and countertops, installing new appliances, changing the layout, installing lighting, and changing the flooring and wallpaper. These improve your kitchen's look, giving it a fresh 'almost new' appearance.
To upgrade your kitchen, seek professional help from a reputable kitchen remodeling company. Although a kitchen remodel isn't one of the recommended DIY projects, it helps to know what you want so you can discuss it with the designers and ensure the final product meets your needs. A kitchen remodel should feel like you did it yourself, and all the remodeling company did was carry out your instructions.
An advantage of having a professional handle your kitchen remodeling project is that they'll give you full service. They'll work on your project from start to finish; all you have to do is watch as your dream kitchen comes to life. Among the benefits of a professional kitchen remodeling service are design assistance, customization, and quality work.
With the right service, you'll save money as the project managers overdo themselves to ensure the final products have your personal touch. They'll also ensure compliance with the prevailing building codes, streamline the renovation process, and work efficiently to deliver a spectacular kitchen remodel.
Why would one want to remodel their bathroom? There are many reasons for this, but modernizing them and improving safety and hygiene are among the top reasons. You can also remodel a bathroom to make it look beautiful and functional.
A bathroom remodel can include the installation of modern bathroom fixtures, energy-efficient appliances, changing tiles, or installing a new shower. Mold, water damage, and mildew pose health risks if not addressed, and a bathroom remodel provides an opportunity to fix these issues before they get out of control.
Incorporating a granite countertop into your bathroom remodeling project gives it a touch of sophistication and luxury as they are known for their elegance and natural beauty, enhancing the visual esthetics of your bathroom. Granite comes in various hues and patterns; select a style that compliments your DIY projects and bathroom design. Granite is also durable, functional, and aesthetically pleasing. Once installed, it'll be years before you think of changing it. Besides, granite surfaces are sturdy and easy to maintain. They're appropriate for kitchens and bathroom surfaces as they're easy to clean.
Adding storage spaces, optimizing the available space's functionality, or reconfiguring the layout are great ways of remodeling a bathroom. You can also add a touch of your personality or that of your child to fit daily routines and personal comfort. Some ideas you could incorporate include a luxurious bathtub, heated floors, DIY projects such as your child's art, and spa-like showers. The goal is to make your bathroom a place to relax after a difficult at work.
3. Finish Your Basement
There are several substantial benefits of finishing your basement. These include a spacious living area or the creation of extra rooms. You could also remodel your basement to create a recreational area, such as a man cave, a guest suite, a home-based office, or a home theater. Having an extra room also enhances the value of your property, making it stand out and sell for a higher price. By adding equity to your property, you can refinance or take out a home finance loan to improve the value of your home.
Basement finishing is also an opportunity to customize it into anything you want. Use your creative freedom to customize the layout, style, and material selection, incorporate your DIY projects, and create a space that befits your lifestyle. A finished basement gives you a blank canvas to create whatever you want: a family room or an entertainment area.
A finished basement is also adaptable. You're not restricted to one design or functionality. In the future, you can change your mind and redesign it for something else. For instance, you may turn it into a playroom for your children and later into a study space when they are grown. You can also repurpose it into a home gym for adults. Other suggestions include turning it into a private place for quiet time and reflection. For ideas on how to finish your basement, hire a basement contractor. They'll help you with layout and design choices for the perfect basement finishing.
4. Upgrade Your HVAC
There are several benefits to upgrading your HVAC unit. You can upgrade to get better energy efficiency and quality of breathable air and make it more reliable. Old HVAC systems require regular maintenance as they are prone to frequent breakdowns. Ultimately, they're costly and time-consuming. Get rid of your old HVAC system and buy a modern one with energy-saving features. Besides, new HVAC systems are compatible with smart homes.
However, before upgrading your HVAC system, have a local HVAC company assess your current system and recommend one that'll serve the needs of your home. They can provide insights into the best models for 2023. Since they are professionals, they may also help with installation to ensure your home's heating and cooling is efficient, improving comfort, quality of air, and overall cost.
A key advantage to upgrading your home's HVAC system is an increase in the resale value of your house. Most potential homeowners prefer houses with modern systems as they offer better comfort and attract low operating costs. Given that people are becoming environmentally conscious, upgrading your HVAC system also helps reduce carbon footprints, minimizing their environmental impact. You can hire local HVAC contractors for the upgrade if you want a perfectly done job.
Most roofing materials have a limited lifespan, and it may be time to change them up if you see visible signs of damage, such as wear and tear or deterioration. If you plan to sell your home, upgrading your roof should be a priority as it enhances curb appeal. A roof provides potential buyers and passersby with a great first impression. It's one of the things they see and take note of upon entering your compound.
Also, if you notice mold or mildew growing on your roof, this indicates you need an upgrade like yesterday. Contact local roofers to advise on the right materials, help identify the issues, and offer advice concerning your specific circumstances, especially if you're considering taking this as one of your DIY projects.
Roof replacement is correlated with your home's energy efficiency. This is because poor insulation and ventilation resulting from damage or aging may overwork the HVAC system, compromising its ability to maintain comfortable temperatures in your home. A newly installed roof offers proper ventilation and insulation against the elements, improving overall energy efficiency and lowering utility bills.
6. Build an Outdoor Deck or Patio
Patios and decks are a fantastic addition to your home. They not only increase your outdoor living space but also improve the overall aesthetics of your home. You can entertain guests, enjoy meals, or relax in this space. It's a creative addition to your DIY projects, especially if you're an outdoor person, and you don't even have to leave the comfort of your home.
Including deck construction in your DIY projects allows you to easily connect with nature without leaving the confines of your home. The numerous benefits of the outdoors include mood improvement and stress reduction. You connect with nature and enjoy the fresh air on a customized patio. It's a great place to escape, away from the noisy indoors.
7. Smart Home Upgrades
Another DIY project for 2023 has to do with improved security, enhanced suitability, energy efficiency, and an improved overall quality of life. To pull this off, upgrade to a smart home. To make your home smart, install smart plugs, smart locks, voice assistants, security cameras, smart thermostats, and smart doorbells. These additions can make your life easier by increasing the efficiency of your home.
To justify a smart home upgrade, think of the energy efficiency of smart thermostats, energy monitoring devices, and automatic lighting. The result is optimized energy use, environmental sustainability, cost savings, and optimization. Devices such as smart smoke and carbon dioxide detectors protect lives by sending alerts in case of emergencies.
Smart homes make your home more accessible to persons living with disabilities or those with limited mobility, such as older people. They make entertaining guests easy as differently-abled people can access your home. By installing voice-controlled devices, anyone can easily play music or stream a movie.
8. Energy-Efficient Windows
DIY projects involving window replacement may appear a bit complex, but there are circumstances when implementing them makes economic sense. Energy-efficient windows have numerous benefits, such as energy savings, improved comfort, and noise reduction. Seek professional help for guidance and tips to ensure the job is done correctly should the task prove too much to pull off by yourself.
Installing energy-efficient windows can reduce energy loss by regulating heat and cold. If you're looking to sell the house, potential buyers will see the energy-efficient windows as a considerable extra and may raise bids for your home. Buyers look at the long-term benefits of a home. They consider factors such as UV protection, energy efficiency, and reduced carbon footprint.
If you're doing the installation yourself, ensure you do your research well, have the right tools and equipment, get advice on what to look for when doing window selection, follow manufacturer instructions during installation, and have the requisite permits and licenses for such DIY projects. Recognize your limitations and always make safety and proper installation your priority. If uncertain, hire a professional to ensure everything is done correctly.
9. Landscaping and Curb Appeal Enhancement
The first thing your guests see at the entrance is your curb and surrounding environment, which greatly influence their first impression of your property. By upgrading your curb and landscaping your compound, you significantly elevate the aesthetic appeal of your home. Incorporate elements such as outdoor lighting, which illuminates the pathways and highlights the plants. Also, add seating areas and include DIY Projects such as painted rock art, decorative signs, or homemade birdhouses. Make your outdoor space a place to relax, unwind, entertain, and recreate.
An aesthetically pleasing curb can make your home stand out from others in the neighborhood, exponentially increasing its market value and attracting potential buyers. Incorporate elements with environmental benefits when enhancing your home's curb and landscape. By landscaping efficiently through mulching and adding water features, you improve water drainage and reduce soil erosion, among others.
10. Create a Home Office or Study Space
Consider upgrading or incorporating an office space in your home. A study space has numerous benefits, including increased productivity, organization, flexibility for remote work, and an overall work-life balance. Projects in need of space, such as an office, allow you to customize your workspace to your needs and preferences, hence making it an inspiring and comfortable working environment.
When planning a DIY home office, choose a suitable location, desk design, storage, cable placement, and lighting. Integrating these aspects will inform your overall productivity, mood, and room atmosphere. You can throw in an indoor plant to introduce a touch of nature and improve air quality in the room.
If noise is an issue where you live, consider soundproofing your office. Incorporate acoustic panels or rugs for a quieter environment. Upgrade your tech if necessary, such as a printer, computer, external speakers, and monitor. The goal is to ensure you have enough space and a proper layout to fit your needs.
Before taking on numerous DIY projects to improve your home, consider factors such as space, design layout, necessary materials and tools, and research. Next, strictly follow the manufacturer's instructions to avoid costly budget overruns. For complex projects needing expertise beyond your knowledge, understand your limitations and seek professional help before it's too late. Check local building codes and regulations and get all the required permits before starting a project.