Construction blocks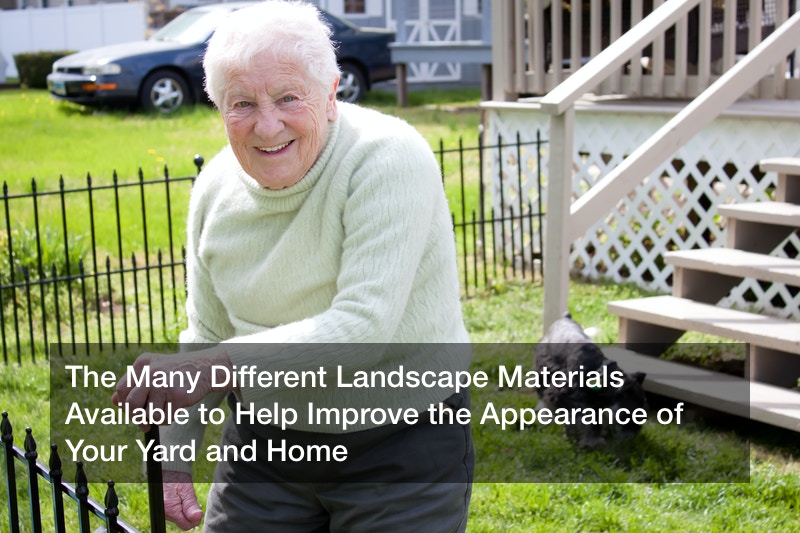 The Many Different Landscape Materials Available to Help Improve the Appearance of Your Yard and Home

Various landscaping tricks increase property value, reduce air conditioning costs in the summer, and improve the resale value and time of any home. Beautiful landscaping design can add a great deal to any home, whether it is completed by a professional landscaping company or as a DIY landscaping project. Helpful landscape materials can assist in updating the curb appeal of your home, the appearance of your yard, energy efficiency of your house, and improved value as well.

Different Landscape Designs
You have the option to complete many landscape tricks on your own, with the ability to add to the design and value of your property. You also have access to landscape materials at local retail locations in order to create a design that matches your creative ideas perfectly. Even more, lawn care and simple landscaping are important, including planting flowers and trees. Much more detailed landscaping tricks can be completed by the experienced landscapers, like waterfalls, rock walls, paving, seeding, trimming, and many others that can add significant visual appeal to any yard.

Landscaping Companies
Quite often, landscaping companies are those who most often bring landscape materials to your property for the completion of projects and update of your property. It is often a recommendation provided by a realtor listing your home, or it may simply be something you desire for an update. Professional landscapers also work for weekly lawn care services, especially when you don't have time to handle it on your own regularly. It manages a strong curb appeal for any home, mostly because Americans consider a lawn that is not well maintained to be a sort of an eyesore, there is much more to gain from cleaning up the lawn upon placing a home on the market.

Hardscaping Helps Custom Landscaping Design
Slightly different than traditional landscaping, typically focused on lawn care, grass, plants, trees, and everything related to soil, hardscaping refers to hard landscape materials or a sort of constructed environment within a yard. These include the construction of paved areas or walkways, driveways, retaining walls, stairways, or sleeper walls. This often involves the absorption or control of water rather than horticulture or planting elements of landscaping.

Custom Landscaping
Many different options exist for custom landscaping, but there are also many choices of landscape materials that can help with improvements in energy usage, lawn appearance and much more. No matter what may be constructed outdoors, for appearance, entertainment, or use, there is a lot to consider about the increased value gained from the landscaping updates at any home. Some of these benefits come from custom landscaping, while others are more standard or traditional. Some of these benefits include the following:
Landscaping can double the recovery value of a home at selling time.
An investment of 5% of your home's value in quality landscaping can increase a building's resale value by almost 15%.
Proper landscaping, placement of trees and plants, can reduce A/C costs by as much as half when shading around a home.
About six of ten homebuyers report that quality landscaping influences their purchasing decision.
Different Landscape Materials for Design Ideas
Any number of landscape tricks that you complete on your own can add to the design of your property. Constructing special items like waterfalls and rock walls, while also paving, seeding, and trimming, landscape materials can add significant visual appeal to any yard. There are some more potential hardscape design ideas that can add to the beauty of a hard as well as its management of water. Some of these items include:
Artificial grass
Landscaping rocks
Decorative landscape rocks
Construction blocks
Landscape pea gravel
Pea gravel rocks
Synthetic grass
Landscaping supplies
Decorative rocks
With so much to gain from landscaping services, there is much to take from landscaping your home while living in it or even upon planning to sell it. There is much to see from the lawn of any home or other property, especially in the visual appeal that can help with the real estate market or with attracting buyers or tenants for any property.