Home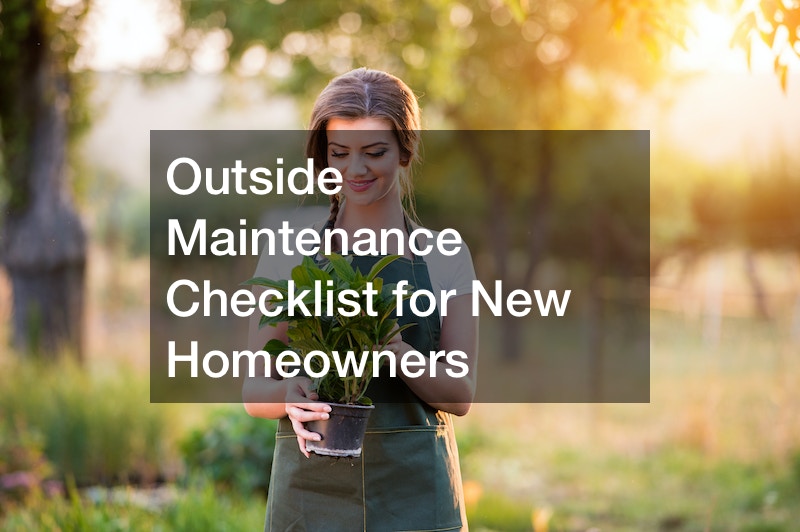 Outside Maintenance Checklist for New Homeowners

Outside maintenance is crucial for keeping a home looking its best and avoiding costly repairs. New homeowners should complete a thorough monthly outside maintenance checklist to keep their property in good condition. Below are some essential items to include in your maintenance checklist.
Cleaning Your Septic System
Your home's septic systems must be inspected and cleaned regularly to avoid the costly repairs that come with neglecting them. Have your septic tank professionally pumped every two to three years or more often if you have a large family. Additionally, use organic cleaners and detergents as often as possible to help prevent the accumulation of chemicals and scum in your septic tank.
Some signs you need to have your septic system serviced include slow draining, strong odors coming from the tank, or an overgrown lawn in the area of the tank.
Gutter Cleaning
Clean your gutters twice yearly. Once in the spring and once in the fall. Clogged or damaged gutters can cause significant problems to your roof and foundation, so you must regularly clean out any debris. Use either a ladder or a gutter cleaning service to ensure your gutters function properly.
If you need help cleaning the gutters yourself, hire a professional gutter cleaning service to do it. Not cleaning your gutters will pool water near the foundation and cause severe water damage. Consider hiring a foundation repair service to repair any potential water damage if needed.
Entry Door Maintenance
Your entry door is the first impression of your home and should be kept in good condition. Check the door frame periodically for any signs of cracking or loose screws. Additionally, ensure the hinges are operating correctly and lubricate them if necessary.
Check the weatherstripping around the entry door to ensure it is not worn out, and replace it if needed. This will help keep warm air in during the winter and cool air in during the summer. In addition, for outdated doors, consider replacing them with energy-efficient models to help reduce your energy bills.
Pressure Wash the Exterior of Your Home
Use a pressure washer once or twice yearly to clean off dirt and grime from the exterior surfaces of your home. This will help bring back the original look of siding and stucco without having to go through the hassle of painting.
Make sure to use a low-pressure setting when using a pressure washer, as too high of a setting can harm the exterior surfaces. Additionally, be careful when using power tools near windows and other fragile areas of your home.
Check All Windows
All windows should be adequately sealed to prevent air leaks and keep out moisture. Inspect the windows regularly for any signs of cracks or damage. If you find any, get them fixed immediately to avoid further issues.
Checking your windows can also help in reducing energy costs as well. If your windows are not correctly sealed, warm air will escape in the winter and cool air in the summer, leading to higher energy bills.
Landscaping Maintenance
A well-maintained yard is critical for maintaining the value of a home. Your outside maintenance checklist should include regular yard work such as mowing, trimming hedges and bushes, cleaning leaves, and fertilizing. Depending on your landscaping needs, you may need to hire a landscaping service to help you.
For instance, tree removal services are a great way to keep your property safe and free of overhanging branches or dead trees. However, if you have yet to experience tree removal, it is best to hire a professional service. They'll be able to remove dead trees, clear away stumps, and provide pruning services, so your lawn remains healthy and surrounding trees don't damage your home.
Maintain Garage Doors
Your garage doors can serve as the main entry point for your home and should be maintained appropriately to prevent any potential damage. Inspect the door regularly, ensuring the hinges are tight, tracks are correctly aligned, and any potential rust is addressed. Make sure to lubricate the tracks and hinges with a garage door lubricant every few months.
Even something as simple as adding insulation and paint can quickly add life and functionality to your garage doors. Additionally, consider installing a door guard that can help to protect your garage from intruders. This will help ensure your home stays safe and secure.
Inspect Roofing
Whether you have metal roofing or asphalt shingles, checking your roof regularly for any potential damage is essential. Look out for loose shingles, holes in the roof, rust spots, and other signs of wear and tear. Additionally, check for any drainage problems that may have occurred due to melted snow or heavy rain.
If you find any issues, take note of them and contact a roofing specialist. A professional can assess your roof and suggest the most appropriate solution for repairing any existing damage. This will help to protect your home from further damage and ensure your roof stays in the best condition possible. You might need to invest in new shingles to replace worn or damaged ones, so be sure to get an estimate of the costs involved before you start any repairs.
Masonry Maintenance
You can hire a professional masonry service to repair any issues and keep your home looking great. Your home's outside maintenance checklist should also include masonry maintenance. This includes inspecting any stone or brick for cracks, missing mortar, and other signs of wear.
They'll be able to replace broken or worn bricks, replace missing mortar, and reseal any stone or brick walls. This will help to prevent further damage and keep your home looking great. They can also provide advice and recommendations on how to maintain your masonry in the future.
Siding
Siding helps add a layer of protection to your home and should be inspected annually for any potential damage. Check for signs of wear and tear, such as cracked, loose, or missing siding. Any potential damage should be repaired immediately to prevent further deterioration and costly repairs.
If your siding has seen better days, consider replacing it with other materials, such as vinyl siding. Replacing worn siding can help improve insulation and energy efficiency and add value to your home. Depending on the material used for the siding, you can repaint and provide additional curb appeal to your home.
Security Systems
A security system will help protect your home from intruders, from your automated driveway gates to surrounding outdoor cameras. Ensure you check all of your exterior locks, motion detectors, and other security features to ensure they are in proper working order.
If you don't have one already, consider investing in a home security system with a monitored alarm system, window and door sensors, and additional home automation features. This will help to protect your family from potential intruders, as well as give you peace of mind when you're away from home. Finally, don't forget to check your windows for any signs of forced entry. If you find any, make sure to contact the police and have them investigate further. These are all essential security measures that should be included in your outside maintenance checklist.
Deck Maintenance
Hiring a patio builder and having them install a deck or patio can instantly improve the look and feel of your home. However, with decks come maintenance requirements that should not be overlooked. Check for signs of wear and tear, such as rotting wood or splintering. Make sure to inspect the posts and railings, as well as the deck boards. If you find any issues, it's vital to repair them as soon as possible. Additionally, consider applying a protective coat of sealant to help protect your deck against weathering and rot.
You can even add paint or stain to your deck to give it a more attractive and polished look. Finally, make sure to keep any deck furniture or accessories stored away during inclement weather and times when they're not in use. Doing so will help to limit the wear and tear on your deck over time.
Revamp Your Garden
Of course, the outside of your home isn't only limited to the structure itself. You can also improve your outdoor space's look and feel with simple landscaping. Start by cleaning up any overgrown shrubs or trees, then consider adding mulch beds, flower gardens, and other plants to give your outdoor area a more inviting atmosphere.
If you haven't added a garden to your home, consider adding native plants that attract beneficial wildlife, such as birds and butterflies. This can help create a more hospitable environment for you, your family, and the animals that live in your area. You can also opt for xeriscape gardening to help conserve water, eliminate weeds, and reduce yard work.
Your outside maintenance checklist doesn't have to be a chore. By following these simple steps, you can keep your home and garden looking great while also limiting the amount of time spent on upkeep.
Winterize Your Sprinkler System
One of the most costly plumbing mistakes a homeowner can make is forgetting to winterize their outdoor sprinkler system. Make sure to turn off your outdoor water lines before the temperatures drop below freezing. If you have any outdoor faucets, make sure to turn off the water and disconnect them. This will help prevent frozen pipes, which can cause costly damage. Additionally, if you have an automatic sprinkler system, make sure to shut it off and drain the pipes of any remaining water. Doing this will help to protect your system during the cold winter months.
Check For Damaged Stucco
Many homes today are built with stucco as a siding material. Stucco is durable and long-lasting, but it can still be prone to damage. Inspect your stucco walls for any cracks, chips, or holes. These should be filled in with mortar or another suitable material as soon as possible. Doing this will help protect the integrity of your stucco walls and can even help to improve the appearance of your home. In addition, if you find any mold or mildew on your stucco walls, it's vital to take steps to remove it quickly. Hiring a professional to clean and seal your stucco walls can help protect them from future damage.
Maintain Your HVAC System
Your HVAC system has an outdoor unit that's susceptible to debris, dirt, and other environmental wear and tear. It's crucial to inspect your outdoor unit for any signs of damage or wear. If you notice any, contact a technician to check the system for any potential issues. Additionally, you may want to consider cleaning or replacing your air filters as part of your regular maintenance routine. This will help to improve the air quality and the efficiency of your HVAC system.
Fortunately, most HVAC companies provide semi-annual maintenance services to help keep your system running smoothly. This can include basic tune-ups as well as more extensive repairs and replacements. Taking advantage of these services can help you save money in the long run by avoiding costly repairs.
Exterior Painting
Hiring painters to paint your home's exterior can improve its look and increase its value. If you're considering painting the outside of your house, make sure to check for any damaged or peeling paint that needs to be repaired before applying a fresh coat. Additionally, select a quality paint with an appropriate finish for your climate and region. Doing so will help ensure your new coat of paint lasts longer and looks better over time.
By following these tips, you'll be able to keep up with all necessary outside maintenance tasks and help protect the value of your home. Remember, regular inspections and maintenance are essential when it comes to extending the life of your home's exterior features.