Home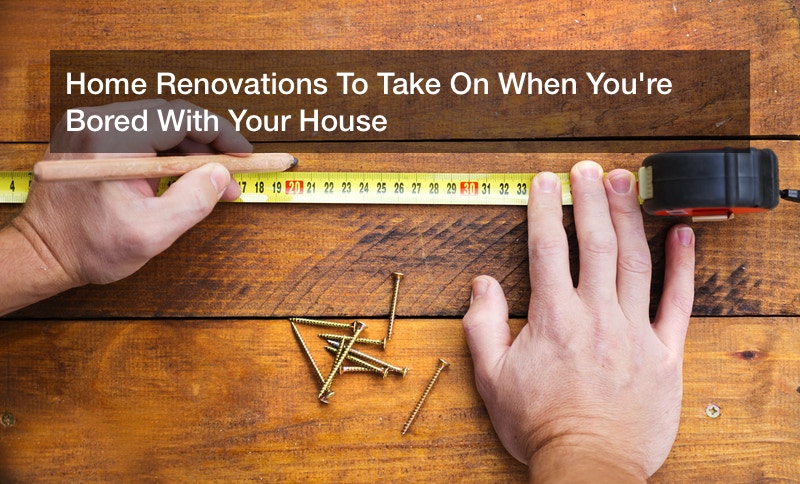 Home Renovations To Take On When You're Bored With Your House

When you find yourself spending more and more time at home, it's easy to start seeing all the home improvement projects piling up. That chip in the paint in the living, those outdated light fixtures in the dining room, the old linoleum in the bathrooms, they all become very obvious when you've spent some solid time at home. If you've become bored with your house, it's time to take on some awesome DIY projects for home renovation. Whether you're a do-it-yourselfer or rely on the help of professionals, here are some great home renovation projects to liven up your house.
New Flooring
New flooring installation is one of the most awesome DIY projects for home improvement that will give you a serious upgrade in any room of your home. It's definitely a large-scale project that will take quite a bit of material, preparation, and hard work, but it's something that you can do on yourself. Some home improvement projects can be much more manageable if you watching videos online and do research on how to best tackle the project. There are quite a few resources online for step by step tutorials of how to remove the old flooring and install new flooring.
The first step to installing new flooring in your home is to decide what kind of flooring you want to use. There are some options that have much simpler installation than others. For example, click-together flooring, also called "tongue-and-groove flooring" is a great option for beginners. You won't need any serious tools, just a saw from custom cutting pieces to fit your space. If you want to replace carpet flooring, you can look into using carpet tiles. This will require more tools for keeping the carpet firmly connected with the ground, but it gives a seamless look.
For some people, the process of ripping up old flooring and installing new flooring seems daunting and impossible. There are a few other options that will give you a beautiful "new" look without as much work. You could try re-staining your wood flooring, painting over linoleum flooring or tiles, and getting carpets deep-cleaned. Again it's a good idea to watch some videos online before you take on these projects to get an idea of the best materials and processes to use for success.
Update Doors
Next on the list of awesome DIY projects for home improvement is a project you may not first think of when planning renovations. Updating or installing new doors throughout your home can add to the value of your home, as well as give your home a more modern look. While you may be able to install some new doors on your own, if you're considering replacing your garage door, you'll want to hire a garage door company to handle it.
If you choose to install a new front door, you'll be getting many more benefits than simply a fresh look. New doors on the exterior of your home can:
Increase security: Newer doors have better technology and crafting that increases their security. Older doors are not built with such security and as they wear down, become less stable and secure. Installing a new exterior door adds one more wall between you and intruders.
Curb Appeal: The front door of a home is a main focal point for many houses. Switching out an old outdated door for something more modern will quickly liven up the exterior of your home.
Energy Efficiency: Newer doors also have the added benefit of increasing the energy-efficiency of your home. Older doors tend to have worn down seals and cracks and holes that let in drafts and negatively impact your energy-efficiency and overall your utility bills.
Upgrading your garage door has some of the same benefits of upgrading your front door. Because it's so much larger than your front door, it's even more of a focal point. So if your door is dented, or outdated, it will quickly age your home and decrease the curb appeal. Once you've replaced the garage door for something newer, you can also add accessories to make your door even more functional. One option is a garage door screen. This is a great addition for summer especially if you spend longer amounts of time in your garage working on projects or if your kids play out there. It keeps bugs out and makes your garage a more comfortable place to spend time. This is one of the awesome DIY projects for home improvement that you can do fairly easily take on.
Deep Cleaning
Another less common but equally great project on the list of awesome DIY projects for home improvement is deep cleaning. Many people would consider this a chore more than a home improvement project. However, there are a few cleaning projects that have a significant impact on the aesthetics of your home and could be considered home improvement.
A great deep cleaning home improvement project you can take on is power washing areas around your home. Older homes have a lot of dirt and debris that builds up on their exterior siding, pavement, and chimney. You can rent a power-washer from your local hardware store for a fair price. Hook it up to the waterline on your home and within minutes you will be able to upgrade the exterior of your home. If you've seen any videos of someone power washing mossy pavement, you'll understand how quick and effective this is at cleaning your home.
New Lighting Fixtures
When you're thinking of awesome DIY projects for home improvement that are fairly inexpensive but can quickly liven up an area, installing new lighting fixtures is a great option. This is a project you will most definitely want to do some research and preparation for, as electrical upgrades can be inexpensive for the inexperienced. But there are quite a few great resources online that will teach you the basics of changing out a light fixture. Keep in mind, if you don't have any electrical work experience, hiring an electrician is always the best and safest option.
Kitchen Renovation
If you're thinking of taking on a larger scale renovation project, kitchen remodeling is one that will add tons of value to your home. There are quite a few awesome DIY projects for home renovation that you can take on in your kitchen to liven up the space.
One great project you can take on is upgrading or updating the cabinets in your kitchen. If you have the skills and tools, removing and replacing the cabinet system will have a significant impact on the look of your kitchen, can add more space for organization, and will add to the value of your home. If you don't want to entirely replace your cabinet system, there are other options, such as painting or restaining them. This is a great option for beginners who want to change up the space, but don't have a lot of handy skills. Again, spend some time researching different tactics for painting or restaining before you start the project. It's always best to learn from other's mistakes rather than make the mistakes yourself.
Another great option for upgrading your kitchen space is to give the walls a fresh coat of paint. Again, this is a project most beginners can take on and it will yield significant results. You can also consider installing wallpaper for an accent wall, or even using peel and stick tiles to create a beautiful backsplash.
Bathroom Renovation
Another great room remodel on the list of awesome DIY projects for home improvement is that bathroom. Bathroom renovations add serious value to a home. In fact, bathroom remodels can yield a return on investment of around 70% and help homes to sell even faster.
If your bathroom is old and outdated, you may want to hire some professional help to assist in some of the larger projects. You could consider replacing the shower or tub, installing a new toilet, or re-doing the flooring. These projects will seriously upgrade your bathroom space, but are not really meant for a beginner or "do-it-yourselfer" unless you have previous experience.
There are also some smaller scale DIY projects for your bathroom that even beginners can take on. These include giving the walls a fresh coat of paint, replacing the hardware on the cabinets, hanging a new mirror over the sink and counter area, and even simply adding new decorations. Remember that a few small changes can have a big impact on a space. You don't have to do everything at once for great results.
Updated Landscaping And Greenery
Another great idea to add to your list of awesome DIY projects from home improvement is to update the landscaping and greenery around your home. Of course, large scale landscaping projects, such as flattening or adding height should be left to professionals with the proper machinery. But there is a long list of residential landscaping ideas that even beginners can do that will quickly add to your home's curb appeal.
The first project is to cut back your greenery. Mature trees are a grand, beautiful thing to have in your yard. But if they're left uncared for, they can quickly cover up your home and dominate your property. Cutting back your trees and shrubbery your home can shine through will quickly make your home look newer and cleaner.
Instead of paying large sums of money for a landscaper to come in and add height to your yard, try adding plants with differing heights. This can give the illusion that your yard isn't just a flat area without having to pay big bucks.
Don't forget to pay attention to your lawn. If you're having difficulty keeping your lawn green and full, try installing new sod. If that's not an option, consider converting parts of your front yard to bark or rocks with shrubbery and plants mixed throughout. This is a project any beginner can take on and will be able to stand back at the end of the day and look at their beautiful new space.
New Roof
While this is likely not a project you can or should try to tackle on your own, roof maintenance or replacement is a project that can have a huge impact on the look and security of your home. You may however be able to handle some basic repairs that can also have a large positive impact. Installing a new roof or making repairs can provide a lot of benefits to the value of your home. A new roof improves curb appeal, raises the resale value of your home, improves your home's energy efficiency, and overall gives a homeowner peace of mind.
Installing a new roof is a job best left to professionals or those with specific repair skills. However, something you can add to your list of awesome DIY projects for home improvement is small-scale repairs. As previously mentioned with other projects, this is definitely one where you should spend some time researching and watching videos explaining the best way to go about checking for damage and making repairs. You'll also want to get recommendations for the right tools and materials to use for the job. However, keep in mind that basic repairs will only last so long and eventually you'll need to get that roof replacement done. So weigh out the time and energy you'll need to put into repairs before you make any decisions.
Your New Home
These awesome DIY projects for home improvement will quickly take your house from boring to exciting and new. They range in skill level from beginner to intermediate to professional work required. However, if you take on even one or two of these projects, your home will be more beautiful and worth more than it was when you started.
Whether you're just tired of sitting in the same boring room for months, or are preparing your home to sell, these awesome DIY projects for home improvement will give your home the boost it needs to become more appealing to everyone.