Home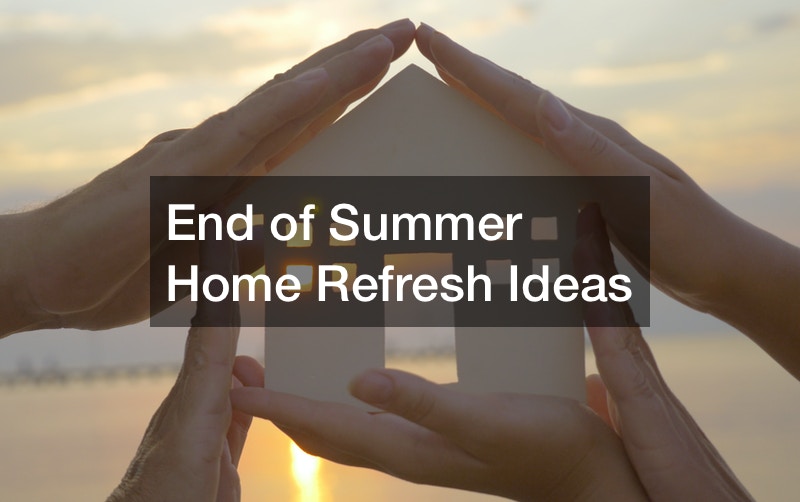 End of Summer Home Refresh Ideas

As summer comes to a close, it is time to tackle projects around the house to prepare for the winter. Home maintenance can seem like a huge venture to undergo, but think about how important your home is. After investing money and time in creating the perfect home, why wouldn't you want to protect it? Each season has a home improvement checklist. Keeping up with seasonal maintenance is essential to prevent unnoticed damage from being ignored. With temperatures cooling down, the end of summer is the perfect time to work on your house. Think of it as giving your home a little bit of a facelift. When compiling your checklist of the work that you would like to get done, consider some of the areas of your house that can be impacted negatively by tough winter conditions.
Check Your Roof
Hire a local roofing company to come out and do a detailed inspection of your roof. Making sure that your roof is in good condition and does not need any repair before winter prevents leaks. Leaks are first and foremost what comes to mind when thinking about roof repair, but if your home has been unusually drafty, this can be a sign of roof damage as well. While drafts can also be attributed to your insulation or ventilation system – ruling out roof damage is a good first step. With expert roofers, vulnerable spots on your roof that you may have overlooked will be identified.
If you hire expert roofers they will first look for signs of water damage. Water damage is often not visible to those who are not professional roofers. Several issues could cause leaks, such as poor water drainage due to gutters that have not been cleaned out properly, damaged flashing, and bent or missing shingles. Addressing potential water damage issues before they progress to the point of a leak inside the home stops damage to the frame of the roof and prevents a need down the road for interior repairs. When it comes to shingles, even if they are not missing, an expert roofer will test the durability of the shingles to see if they are becoming brittle or showing signs of mold growth. They may recommend shingle replacement as part of your roof repair recommendations. An expert roofer can test the durability of the shingles of a roof by looking at the gutters. A common cause of clogged gutters is bits or granules of shingles that build up over time. Not only does this reflect shingle health, but it also weighs down cutters, causing damage.
Another way that an expert roofer can determine if there has been long-term water damage to your roof is through the presence of mold. Mold can grow around corners, chimneys, and skylights on your roof. It is a sign that there has been significant water damage. Any spots of the roof that show mold on the exterior will then be inspected from the interior of the roof to determine if it has been leaking through.
With the help of one of your local roofing companies, you can take on the fall and winter seasons knowing that your roof is up to proper standards.
Consider Solar Power
After your roof inspection, consider the addition of solar panels. Solar panels can provide significant cost reductions when it comes to your energy bill. Installing solar panels also means that you qualify for the 26% federal tax credit. The Investment Tax Credit uses the cost of the installation of the solar panels as well as the batteries and 26% of that cost is credited. While not every roof is right for solar panel installation, a solar professional can come out to evaluate to see if your house would be a good candidate for solar panels.
The end of summer is the perfect time for solar panel installation as it takes between two to three months to be fully installed. While installing the actual solar panels and the system takes between two to three days – except for complicated or large projects – much of that waiting time is due to the planning and approval process. There are many different options when selecting solar panels for the home. If you are looking for the cheapest and easiest method, Grid Connect. Grid Connected is exactly what it sounds like. The system is connected directly to the energy grid. Any usable energy that is absorbed by the panels is stored in the grid and in turn can be transferred to use to power your home. Batteries can be added to the grid connection. The batteries store energy that you do not consume. In the event of a power outage, the battery storage will keep your power on, whereas the Connected Grid without batteries does not have this backup storage system.
Revamp Your Garage
Garage doors get used so frequently that to keep down on the wear and tear they need a little TLC. When thinking about garage door repair, look at both the exterior and the interior. If the door itself is starting to look a little worse for wear, such as noticeable dents, these can be remedied with little effort. First, give the garage a thorough washing to clear away all particles and grains. After the garage is dry you only need three simple tools to fix dents, and all of them can be found in your home. Cover the dented area with aluminum foil and heat the foil with a lighter. Once hot, remove the aluminum foil quickly, spray the dented area with compressed air for anywhere between 30 seconds to a minute. The carbon monoxide that is in turn generated causes the dent to pop back into place.
If you have a vinal or wood garage that is showing signs of weathering, it might be time to consider a fresh coat of paint. Using outdoor latex paint, you can refresh the look of your garage, while also creating a barrier from the elements. With outdoor paint and a waterproof sealant, you are less likely to see water damage when spring rolls around. This can extend life and the appearance of your garage.
For ease of access, buy new garage door openers. Garage door openers become less effective over time, meaning that to get into your garage you're forced to either push the button multiple times or hold it down. On the interior of the garage, it ensures that all nuts and bolts are properly tightened. Use WD-40 to lubricate your garage door rails. It is good practice and can result in a quieter garage. Another area to check is the motor garage door. While they typically last 10 to 15 years, check to make sure that their motor does not shake excessively when the door is opened.
While working on the interior of the garage, consider reorganizing. As many of the items in your garage may be summer items, doing a clean-up before fall and winter will allow you to find items that you need for those seasons without having to dig through piles of stuff. For more compact storage, buy used storage containers. These can vary in size, depending on the items that you are looking to store. The container then fits easily in garage shelving and can also be stacked. Clearing clutter before the seasons' change can refresh your space. Depending on how your garage is situated, water can inevitably leak into your garage. It is a good idea to seal all cracks in the concrete to prevent them from expanding on the foundation further. Painting walls with outdoor latex paint can also prevent the growth of mildew and mold. To further prevent this, consider adding a dehumidifier if your garage is not heated or well insulated.
Check Your Windows
Windows that are drafty, cracked, or old only raise energy costs. In the cooler months, it becomes more expensive to heat your house if the hot air is not only seeping out of the windows, but your heater is also trying to fight off the cold air that is coming in. Hiring a window replacement service can save you money on electric and gas bills. The window service technician can point out windows that are vulnerable throughout your house. They can then make recommendations. While windows are expensive, it is an investment that pays off in the long run. It isn't just the cooler months where you want properly sealed windows, as it gets warmer, air conditioning bills can skyrocket as well. Using a window replacement service also inspects if the windows are properly sealed around the edges. Old or cracked sealing can bring unwanted weather from the outside into your house in the form of leaking water.
Don't Forget Plumbing
Hiring a plumbing service company might be the last thing you would think of adding to your seasonal checklist, but there are a few very important reasons as to why you should. Frozen pipes are the last thing that you want to have to deal with in the wintertime. When pipes freeze, the expansion of the water inside causes leaks and damage to the foundation where your pipes connect to your house. If it goes unnoticed for a significant amount of time, the damage can directly affect your water supply. Having a plumber come out to examine your plumbing system. The plumber will not only check for leaks or damage to your exterior pipes but also check for leaks within your house. If you have any exterior drainage pipes, those should be inspected as well. If there is a buildup of debris, water is more likely to build up and freeze.
If your home has a sub-pump, a plumber can inspect it to ensure that it is working properly and there is no damage. In the event of harsh winter conditions, the last thing that you want to freeze is your sub-pump. When a sub-pump freezes, all drainage is blocked and the sub-pump is no longer operational – which means flooding.
Prevent Winter Mold
Without proper maintenance, you may see a boom in mold in the wintertime. It can cover walls and windows. You most commonly see this in areas that have poor insulation. The outside temperature mixes with the interior temperature of your home and creates condensation and mildew. One step in preventing this is through the use of mildew removal products. These will kill the mildew before it gets to the point of developing full-blown mold. Using a dehumidifier in areas where you may have done mildew removal, works to prevent it from returning. It is also good practice to check all of your filters to ensure that they are clean. Replacing filters is a simple and inexpensive fix to avoid having to deal with a much larger problem. Winter mold is particularly nasty because with freezing temperatures it's unlikely that you will have your windows open. To avoid breathing in mildew and mold, you want clean filters and vents.
Enter the New Season With Confidence
While it may seem like a long checklist, completing these projects at the end of summer can give you ease of mind throughout the colder months. Prevention and maintenance are the best methods when caring for your house. It may not be the most exciting process, but it saves you from the nightmare of having to deal with more serious damage down the line. Making repairs to your roof, garage, and windows can breathe new life into your home. You also can go forth with the confidence that your pipes are protected from freezing and the air that ventilates through your house is clean. Refreshing your home at the end of summer allows you to enjoy the seasons ahead with confidence.