Home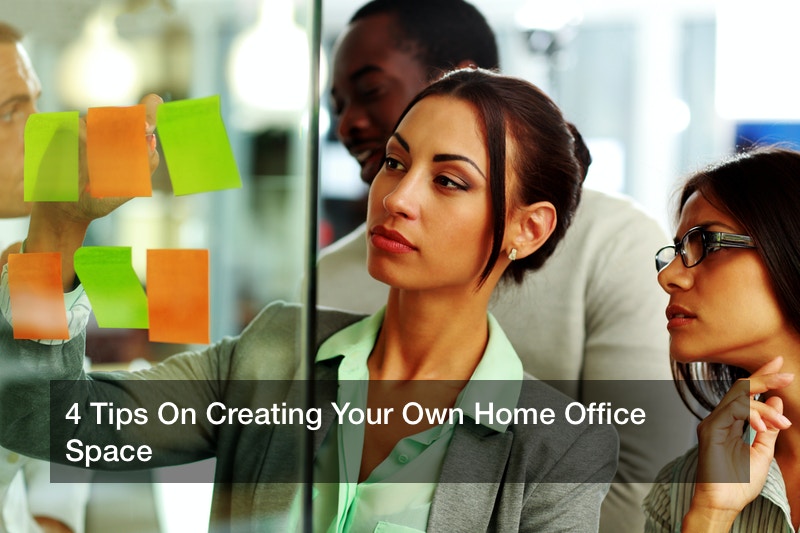 4 Tips On Creating Your Own Home Office Space

Many Americans are dealing with circumstances that are completely new to them as a result of the COVID-19 pandemic. While many have lost their jobs, others have managed to hold onto them, albeit in a different form than what they are used to. These employees, who often worked in office spaces beforehand, have now transitioned to working remotely; furthermore, a lot of people seeking new jobs are giving preference to remote positions, due to the fact that the job climate is so uncertain. However, for those that haven't worked remotely before, adjusting to this new lifestyle may be easier said than done. A lot of people are able to do the tasks necessary to work remotely; however, they don't necessarily have the ability to do so in a timely manner due to various distractions or an inability to really feel comfortable. While working from home may at first seem to be a dream come true for some, it offers unique challenges. Furthermore, a lot of people feel uncomfortable with the idea that they have something to prove. Many companies that are unused to having employees work from home primarily may be concerned about this change, leading to a "helicopter" mentality.
With all of this being said, even if you would rather work in the office as you're used to, you may not have much of a choice. Having employees work from home isn't just about liability for many companies, or following state guidelines. It's also a matter of saving money, as many companies are able to pay partial rent when they aren't fully using the facilities that they delegate for office spaces. For that matter, when a building isn't being used, companies don't need to worry about energy bills. All of this being said, if you're working remotely now, you may very well be working remotely for quite some time. Therefore, it's important to look into how to design a home office space that suits your specific needs, and doesn't take away from what your house is at the moment. Making a great home office isn't necessarily about opening up your house overmuch or taking away from one room. In fact, you may very well discover that with the right home office space, you'll not only like working at home more, but become more productive than you were in your former workspace.
1. Prioritize Your Internet Connection
To put it bluntly: there is no way that you can work effectively from home without a strong internet connection. A lot of people find themselves worried about the comfort level of their space, or the aesthetic design of it, before checking the internet connection there. While it's important to consider all aspects of how to design a home office space, your internet connection will allow you to communicate with your coworkers or supervisors effectively, and furthermore will allow you to research and submit work in a timely manner. A lot of us already prioritize our internet connections; but for some, it isn't much of a concern until we're forced to consider working from home.
Your internet connection may very well vary from space to space in your home, and a lot of people find that one room may have a much stronger connection than others. For that matter, your connection may be dependent on where you live and the internet provide that you use. While you may currently be using one provider because they offer a cheaper package than the competition, they may also be unable to provide the kind of coverage that you really need to work at home. You may also need to switch from having a wireless connection to an ethernet connection, or vice versa. Fortunately, it's not all that difficult to test your internet connection. The work comes in if you discover that you need to replace your current provider or move some things around to better suit your work priorities. If your internet service provider works well and suits your needs in all other parts of the home, then there may not be a point to changing providers in order to better outfit one room. In that case, you may need to change your approach of how to design a home office space, and simply select a different room to work with. However, if you do end up needing to pay more for a different internet provider, you might want to consider this a part of simply investing in your business. You don't necessarily need a provider who can provide a connection worth of Minecraft server hosting; but you do need a strong internet connection.
2. Seek A Private Space
When looking into how to design a home office space, it may be tempting to simply go where you're most comfortable, especially if you own a laptop that can easily be transported anywhere. However, there are pros and cons to this approach that cannot be ignored, especially if you live with a family. Kids are spending more time than they normally would within the house as well, which is why a lot of people have struggled with working from home. The best solution to this problem is rather simple. You just have to cut yourself off from others when you're working, even if this means making a home office in a space that you normally wouldn't frequent.
Of course, some of us have limited spaces; but you don't have to add on a new room in order to get the private space that you need. You can also take a part of your bedroom aside and devote it to your work space, perhaps with a desk. If you do this, it's a good rule of thumb to keep from working while in bed, as that's a place associated purely with relaxation. For these same reasons, try to stay away from the couch if you can. If you do have a bonus room, now is the time to turn it into a home office. This kind of home improvement project doesn't only make the home better suited for your work space needs; it's also adding value to your home overall. A lot of people love the idea of a finished bonus room in their home, and if you ever put yours on the market you'll be able to advertise that, even if you originally finished the space merely for your home office needs. For that matter, as previously discussed, many more people will be looking into how to design a home office space in the future. Therefore, they'll appreciate you having done the work for them!
3. Comfort Is Key
While you don't want to use your bed or couch as the ideal place to handle your work from home, you also shouldn't be uncomfortable. Think about how distracting it is to work at a cramped desk, or to do your work while sitting in a chair that gives you back pain. But a lot of people resign themselves to being uncomfortable when working from home because they've already resigned themselves to being uncomfortable at home in general. When you're seeking out how to design your home office space, you should take this as a time to fix the issues that are already occurring within your house. One issue that can be majorly distracting when you're working from home is the classic heating and cooling problem. If your residential air conditioning unit isn't working, you can't be expected to properly focus on your work during the hot summer months. Furthermore, the same can be said if you need heating system repairs during the winter. Make sure that your home is well-ventilated as well, as a lack of ventilation can lead to dust collecting in your office space. Not only is this, of course, less than sanitary; you may also end up having allergies triggered, which will definitely distract you while you work.
Needless to say, heating and cooling are not the only issues that can come up within your home office space. You should also take care to make sure that you have a good office chair that will support your back. For that matter, you may want to invest in a desk that is small, therefore not intruding on your space while also being easily adjusted to accommodate your home office's limitations. Another matter that you should consider while putting your home office together is lighting. If you find yourself working well into the night in your home office, you could very well end up unintentionally straining your eyesight. A well-lit home office is key to maintaining the health of your vision if you work from home.
4. Utilize Business Tech
To a certain extent, some aspects of how to design a home office space may end up being handled by your employer. Some employers have stricter policies for work from home employees than others, insisting that they use specific types of technology and even having requirements for work spaces. However, others are much more lenient, or don't provide the technology necessary to work from home, like laptops or business phone systems. There is also the matter of running your own business. Being self-employed, which a lot of people are facing in a post-pandemic world, means supplying yourself with your own business technology.
Of course, what constitutes business technology is going to shift from person to person. In general, everyone is going to need a laptop. Today, a desktop often isn't necessary for people who work from home, because modern laptops provide so many different options. With that being said, some people also find themselves in need of more than one screen, especially if they're doing a lot of work at once. Another major issue that people have is that they often need to communicate with more than just their email systems. Therefore, when looking into how to design a home office space, you should look for internet providers that can also outfit your phone systems. You may also need to seek out a separate business line if you are self-employed, or otherwise forward your business phone to your personal line at times in order to ensure that you're reachable. Headsets are also key, as they'll help filter out background noise and will make it easier for you to have conversations with customers or clients on the other line. Other types of business technology that you should look for include good video conferencing equipment, which is more relevant now than it ever was before. While you may have decided on the chat app that you actually like, having a good webcam is another issue entirely. Your internet connection may be perfect and your app may be easy to use, but if you don't have a good webcam then you may risk not only poor video quality, but making a poor impression as well. You can sometimes write these types of business expenses off when filing your taxes, and you should take advantage of it if so.
When looking into how to design a home office space, it's easy to get overwhelmed at first. If it's looking like you may need to work from home permanently or even semi-permanently due to employment issues, you have a right to be concerned at first. Kids should be in their elementary, high, and middle schools, but are now at home. The idea of working in a packed house may seem impossible before you begin your design process.
However, as you look into how to design a home office space, you'll quickly discover that there are so many benefits to working at home. You won't need to worry about gyms having limited hours, as you can work from home! Furthermore, you won't have to stress over that nagging commute anymore. If you're still intimidated and want to start a project, you can even discuss how to design a home office space with a professional interior designer. But you don't have to! The beauty of any home improvement project is that it's often easier to do after doing research and watching how-to videos online. You can do as much of it on your own as you want.